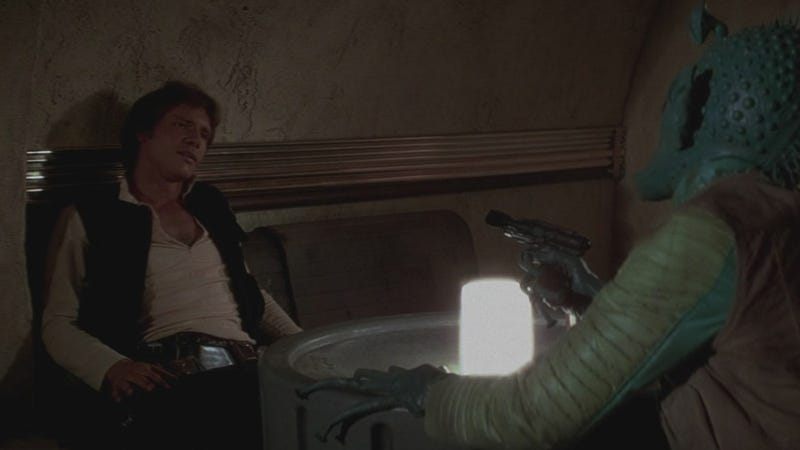 Sometimes when you're exploring other planets or strange realms, your best friend really is a warm gun. Sometimes, your wits and your fists aren't enough, and you need to defend yourself... with a pistol.
Here are the 10 baddest handguns in science fiction, fantasy and comics.
We asked our Facebook peeps what their favorite science fiction/fantasy handguns were, and included some of your responses in this list.
10) Mal Reynolds' Sidearm (Firefly)
We weren't really sure whether to include this one, but it got by far the most votes in our Facebook poll. (There's just something about Browncoats and polls.) And you have to admit, it is a gorgeous piece of ordnance. According to this super-detailed gun-related website, it's an antique-styled weapon, but judging from the sound effect, it uses some unknown futuristic propellant. Like everything on Firefly, it's retro but also futuristic.
9) Deckard's hand-cannon (Blade Runner)
By all accounts this gun shoots explosive shells, meaning it makes quite a mess if Deckard decides he didn't like your responses to those turtle questions. And it's a big scary gun, with some rifle characteristics as well as bits of a basic .44. It's got intimidation as well as blasting power.
8) The Lawgiver Mk II (Judge Dredd)
These puppies are just scary-looking, despite the weird Viewmaster wheel over the grip. They are DNA-locked to each Judge, and have a range of up to three miles, including exploding ordinance and heat-seeking bullets. Mostly they are designed to be an overwhelming show of force that fits snugly in your hand — the perfect symbolism of judicial power run amuck in a world with no other social control. Carry one of these, and you ARE the law.
7) The Needler (The Stainless Steel Rat and Halo)
Halo may have made the Needler gun famous, but Harry Harrison's hero, the Stainless Steel Rat, was shooting them first. In the Harrison books, the Needler gun could shoot all sorts of different needles, including paralyzing needles, truth serum, nerve toxins and so on. In Halo, the Needler shoots needles that track your opponents, and it can shoot at a very fast rate. If you embed seven needles in a player in the same area, they explode and kill the player. Image via Kotaku.