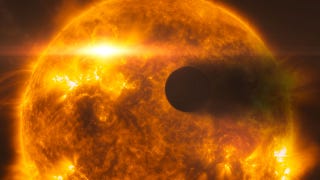 There was a time when science could be broken down into neat-and-tidy disciplines — straightforward things like biology, chemistry, physics, and astronomy. But as science advances, these fields are becoming increasingly specialized and interdisciplinary, leading to entirely new avenues of inquiry. Here are 11 emerging scientific fields you should know about.
Top image: An artistic impression of HD 189733b, an exoplanet whose atmosphere is being blown off by its sun's solar flares. It's a discovery that was made possible by the emerging field of exo-meteorology. Source: Hubble Space Telescope.
1. Neuroparasitology
If you know about Toxoplasma gondii — the cat-spawned parasite that alters both rodent and human behavior — then you know about the work of neuroparasitologists. The fact that these eerie parasites now have their very own scientific discipline devoted to them shows just how prevalent they are in nature.
These parasites typically alter host behavior as a part of their reproductive strategy (often by being consumed and excreted by a third party). A good example is Euhaplorchis californiensis, which causes fish to shimmy and jump so wading birds will grab and eat them. Hairworms, which live inside grasshoppers, eventually need to leave their hosts to continue their life cycle. Rather than leave peacefully, however, they release a cocktail of chemicals that makes the grasshoppers commit suicide by leaping into water. The hairworms then swim away from their drowning hosts. Image: Fox.
2. Quantum Biology
This is a freaky one — but then again, anything with the word "quantum" in it is bound to be weird. Physicists have known about quantum effects for well over a hundred years, where particles defy our sensibilities by disappearing from one place and reappearing in other, or by being in two places at once. But these effects are not relegated to arcane lab experiments. As scientists are increasingly suspecting, quantum mechanics may also apply to biological processes.
Perhaps the best example is photosynthesis — a remarkably efficient system in which plants (and some bacteria) build the molecules they need by using energy from sunlight. It turns out that photosynthesis may in fact rely on the "superposition" phenomenon, where little packets of energy explore all possible paths, and then settle on the most efficient one. It's also possible that avian navigation, DNA mutations (via quantum tunnelling), and even our sense of smell, relies on quantum effects. Though it's a highly speculative and controversial field, its practitioners look to the day when insights gleaned may result in new drugs and biomimetic systems (with biomemetics being another emergent scientific field, where biological systems and structures are used to create new materials and machines). Image: qubit-ulm.com.
3. Exo-meteorology
Like exo-oceanographers and exo-geologists, exo-meteorologists are interested in studying natural processes which occur on planets other than Earth. Now that astronomers are able to peer more closely into the inner-workings of nearby planets and moons, they're increasingly able to track atmospheric conditions and weather patterns. Jupiter and Saturn, with their impossibly large weather systems, are prime candidates for study. So is Mars, with it's regularly occurring dust storms. Even planets outside our solar system are being studied by exo-meteorologists. And interestingly, exo-meteorologists may eventually find signs of extraterrestrial life on an exoplanet by detecting organic signatures in atmospheres, or elevated carbon dioxide levels — a possible sign of an industrial-age civilization.