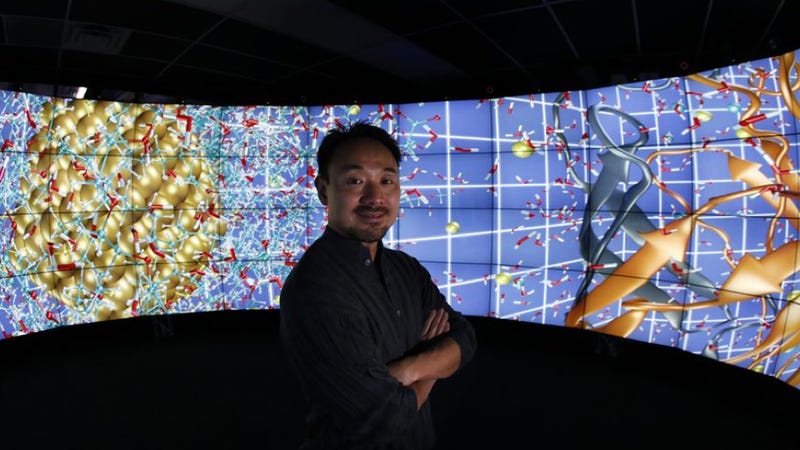 It's easy to get lost in CAVE2. The next-generation virtual reality platform is one of the most advanced visualization environments on Earth. It combines 320 degrees of panoramic, floor-to-ceiling LCD displays with an optical tracking interface that gives rise to a "hybrid reality system" capable of rendering remarkably immersive 3D environments — whether you wish to explore the labyrinthine vasculature of the human brain, or soar swiftly over the vast canyons of Mars.
As its name suggests, CAVE2 is a sequel. Developed by the Electronic Visualization Laboratory (EVL) at the University of Illinois at Chicago, the "hybrid reality system" is a direct followup to the original CAVE — a small, cube-shaped room that debuted way back in 1992. Like its predecessor, the "AVE" in CAVE2's name stands for "automatic virtual environment" (the recursive acronym's "C" stands for "Cave"). But that's pretty much where the similarities end.
Everything about CAVE2 is big. A cylindrical enclosure, it measures 24 feet in diameter and 8 feet tall. Its interior surface is lined with 20 strategically placed ambisonic speakers, and covered floor-to-ceiling with 72 3D LCD screens. Said panels give you a 320-degree view and output at 37-megapixels each in 3D (7,360 x 4,912 pixels, or twice that in 2D), giving rise to a pixel density on par with that of the human eye's angular resolution at 20/20 vision.