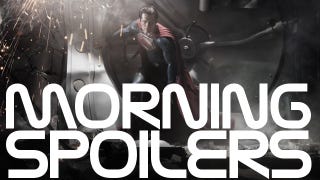 We learn Man of Steel's supposed running length, and it's epic. Writer-director James Gunn meets with two crucial Guardians of the Galaxy people. Steven Moffat confirms he's planning Doctor Who's next season. Plus Transformers 4 and Dark Skies hints!
It's spoilers all the way down!
Top image from Man of Steel.
Man of Steel
According to IMDB, the running time of Zack Snyder's Superman movie is an epic 148 minutes, which makes it only 4 minutes shorter than The Dark Knight (and 8 minutes longer than Batman Begins, for sake of comparison). Obviously, anything from IMDB should be met with all due skepticism, but a movie's running length is apparently something the site tends to get right with a decent degree of accuracy. [Comic Book Movie]
---
Guardians of the Galaxy
Writer-director James Gunn tweeted that he had met with Dan Abnett and Andy Lanning, who were responsible for a series of very highly acclaimed Guardians of the Galaxy comics in the late '00s, in the movie's production offices. It's not clear whether Abnett and Lanning actually offered any thoughts on Gunn's film or if this was just a courtesy visit, but Gunn did include this caption of a photo of the three of them that he posted to Instagram: With the genius reimaginers of the Guardians of the Galaxy who I am currently reimagining - Andy Lanning & Dan Abnett! We showed them around the production office today to show them some of the amazing stuff they inspired! We wouldn't be making this movie without them! AND they're super nice guys to boot!
---
The Wolverine
Here's a new promo photo of director James Mangold and star Hugh Jackman's latest, Japan-set entry in the Wolverine saga. [First Showing]
Mangold also tweeted this photo from the editing bay — the image on the screen is apparently from the last reel of the film. [/Film]

---
The Amazing Spider-Man 2
Presented without further comment or explanation — because really, your guess is as good as mine here — is director Marc Webb's latest production tweet, which is a collage of Franklin Delano Roosevelt for some reason.

---
Elysium
District 9 director Neill Blomkamp reveals his hard sci-fi epic — which stars Matt Damon, Jodie Foster, and his District 9 leading man Sharlto Copley — is already completed and awaits it summertime release, even though we've yet to see a trailer:
"It's kind of weird that it sits on a shelf and doesn't come out until August 9th but I think a summer release is fantastic for the film. Elysium is basically done at the end of February. I have some straggling VFX shots that go into April but it's almost done. The stuff looks absolutely amazing."
---
Chappie
The same report indicates that Blomkamp is already prepping his next sci-fi film, his previously reported "robot comedy" Chappie, which will be primarily shot in Johannesburg, South Africa with post-production and visual effects work handled in Vancouver, the same arrangement Blomkamp used for District 9. [The Province]