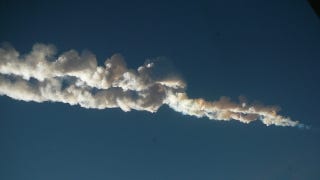 It's been four days since an asteroid tore a hole in the sky over Chelyabinsk, scaring the crap out of the city's inhabitants and pretty much everyone else around the globe. Details are finally starting to emerge about this jaw-dropping incident, so we've prepared a round-up of the preliminary findings.
The asteroid made its low angle descent into Earth's atmosphere on February 15 at 03:20 GMT, and was the largest in more than a century. In fact, events of this magnitude are believed to occur only once about every 100 years or more.
Based on extensive video evidence, the Chelyabinsk asteroid flew in at a shallow angle of 20° above the horizontal (NASA called it a "grazing impact through the atmosphere"). When it reached Earth, it was moving at about 11 miles per second, or 40,000 miles per hour (18 km/s, 64,000 km/h). It streaked across the Russian sky moving from the northeast to the southwest.
Image at left shows the meteor's vapor trail — click to enlarge (via ESA).
Peter Brown of Western University has calculated that the asteroid was about 56 feet across (17 meters), which is roughly the size of a school bus. For comparison, asteroid 2012 DA14 (which paid us a visit later that same day) measured 150 feet across (45 meters), and the Tunguska asteroid of 1908 is estimated to have been about 330 feet across (100 meters).