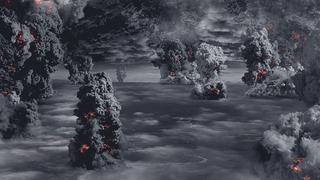 A scientist from the University of Utah has confirmed that two continent-sized "thermochemical piles" are slowly converging at the bottom of Earth's mantle about 1,800 miles (2,900 km) beneath the Pacific Ocean. This process, says geologist Michael Thorne, could eventually lead to a cataclysmic eruption that could "cause very massive destruction on Earth." But don't panic quite yet. His research suggests that this super-volcano-in-the-making may not erupt for another 100 to 200 million years.
The new study, which is set for publication in this month's issue of Earth and Planetary Science Letters, suggests that the collision of the two piles is creating a massive reservoir of partly molten rock that could eventually lead to one of two different kinds of super-eruptions in the far future.
Pick your poison
The first scenario is a "hotspot plume," the kind of large scale geological event that happened about 2 million years ago at Wyoming's Yellowstone caldera — an eruption that covered North America in blanket of volcanic ash.