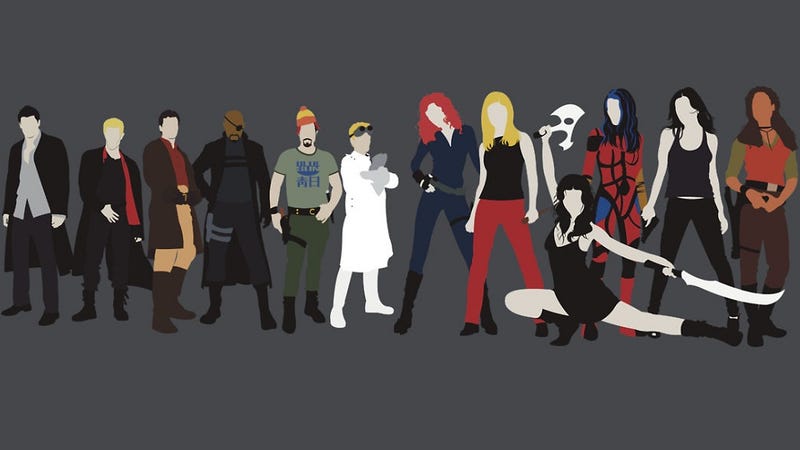 Absolutely everybody on the planet saw Joss Whedon's The Avengers a few times — but still, many of our fellow humans have yet to delve into the Whedon back catalog. Possibly even including you. With Whedon filming the pilot for his new S.H.I.E.L.D. TV show right now, this is the perfect time to immerse yourself in the Whedon canon. Except that many people find that the full-on Joss is not their cup of tea, sometimes for reasons that are totally valid.
But sometimes, people are scared away from delving into Buffy, Firefly and the rest by a set of pernicious myths. Here are seven Joss Whedon myths that could be scaring you away for no good reason.
Top image: Tom Trager.
1. His work is all twee, and everybody wears silly hats all the time
There's a widespread perception that Joss Whedon's work is all full of super cute people doing super cute things, and holding hands and wearing knitted hats and overalls. And as those of us who've delved into his ouevre know, he actually goes to some pretty dark places and explores some pretty intense themes, including sex, drugs and death. We've had to convince our friends and roommates in the past that Whedon isn't all fluffy bunnies — he gets pretty serious and heavy.
2. He always kills off your favorite character
Compared to George R.R. Martin, Whedon is a wuss about killing off leading characters. Especially once you take away deaths in series finales — when you're supposed to off a few characters — Whedon starts looking downright restrained. There are a handful of surprising deaths the 12 collective seasons of Buffy and Angel, and none in Firefly. In Dollhouse, it's all just the series finale. In the two movies Whedon directed, there were deaths, sure, but that's the movies. Don't expect to see Buffy die at the end of the first season of Buffy the Vampire Slayer or anything. (Well, okay. But you know what I mean.)
3. He's all about 1990s "girl power" feminism
Like the Spice Girls, sort of. Cute girls kicking ass while being cute. You can definitely question whether Whedon's work is feminist — see this discussion over at The Mary Sue — but the good news is, his female characters have come in some different shades than just "the cute ass-kicker." For example, there's the tough, no-nonsense Zoe on Firefly, or the icy, calculating Adelle in Dollhouse. In fact, Avengers does a pretty decent job of giving its one female character, Black Widow, some facets and making her main superpower her wits. And the much-maligned Dollhouse does set out to interrogate the "cute ass-kicker" trope, including the notion that this character is usually controlled by men, while asking some complicated questions about identity and complicity.