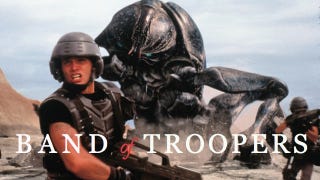 Some of our favorite TV series started as movies, like Terminator: The Sarah Connor Chronicles. Heck even Zombieland is currently under development as an original series for Amazon. But what other movies are ripe for a TV spinoff? We've got a list of films with amazing small screen potential. Hollywood, stop futzing around with crap remakes, because here are ten spinoffs we actually want to see.
10. Ghostbusters
We've been waiting and waiting for Ghostbusters 3 the movie. Perhaps it's time to give up and focus on a way to bring the Ghostbusters back in a non-drama-filled Hollywood stunt casting way. What about Ghostbusters the live action TV show? Set it in the present with a new team. The original cast can be involved or not, the head guy could be Dr. Raymond Stantz's kid who just inherited the firehouse. We're cool with whatever backstory. Just as long as there is a band of misfit heroes chasing around silly/scary spirits in New York City while skirting the edge of the law we are in. Of course the whole thing would hinge on the writing. The TV series would need to land a showrunner who can straddle comedy and horror perfectly. Our suggestion? Get Rob Thomas of Veronica Mars and Party Down and cross your fingers that his loyal band of amazing actors like Ken Marino, Martin Starr, Ryan Hansen, Lizzy Caplan, Adam Scott and Kristen Bell sign on to be regulars, or at the very least, come for a cameo. Yes we know there was a Ghostbusters cartoon series which was also awesome, but we're focusing on live action for now.
Image vis Super Official News.

9. Constantine
The best part about Constantine wasn't the whole "spear of destiny" story, it was the world building. Put your feet in water and hold a cat to go to hell. Shake a screeching beetle to deter demons. Mirrors play an important part in exorcisms. Oh and the characters, sexy angels and nasty demons all in amazing outfits turning water into wine in their secret underground clubs. We want to party with you Constantine! We want to learn about your religious super wars and what all your tattoos mean and how you got them. The DC comic is stuffed with new stories to tell and mysteries to solve. What happened after the spear of destiny debacle? Make it dark, make it hot, and at some point someone has to have sex with an angel. All this series would need to do is pick up right where the movie left off with a PISSED Devil doing everything in his power to get John Constantine's soul back.

8. Looper "Vagrant Wars"
Rian Johnson already said he was (sort of) in. Give us a noir-ish drama following a new Looper-to-be trying to make his way up in the mob ranks of Kansas City. Meanwhile the Vagrant Wars rage on, ripping apart the midwest.