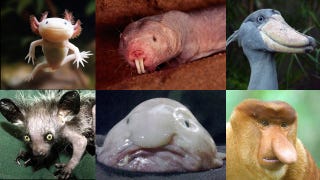 Those who question the theory of evolution generally do it on religious grounds. But there's a non-faith-related reason to question evolution. A lot of animals are too absurd to have been shaped by any kind of natural selection process. Here's our working alternate explanation: these animals were designed by tired anime artists slaving away in Nintendo's HQ. Here are 12 creatures we're pretty sure are actually Pokémon who escaped into real life.
Axolotl
The Facts: Native to Mexico, these aquatic creatures are basically salamanders that never grew up. Call them the Peter Pans of the amphibian world. Also known as 'water monsters,' they're a neotenal species whose adult members never lose their gills, allowing them to remain perpetually underwater. They're also unique in that they can regenerate their limbs, including less vital parts of their brains.
Why It's a Pokémon: Oh, come on. This can't possibly be a real creature. The adorable smile, the fuzzy ear/horn things, the perfectly pointed fingers… that's a cartoon character, no question about it. Hell, put a red bow on its head and it's practically Hello Kitty's amphibious cousin.
Aye-Aye
The Facts: As adorable as these animals appear to be, they don't have it easy in their homeland of Madagascar. The aye-aye, a member of the lemur family, is considered an evil omen by the local Malagasy people. They're killed on sight and hung upside down so that any lingering evil spirit will be carried away by travelers. Their reputation may have something to do with the fact that they're the world's largest nocturnal animal — and they hunt grubs by tapping on trees.
Why It's a Pokémon:
While this critter may look a little terrifying for a Pokémon, remember that Pokémon can only speak in the syllables of their name. Aye-Aye is a Pokémon name if I've ever heard one. Moreover, this thing looks like it howls "aye aye!" constantly, especially after a super-effective attack.
Blobfish
The Facts: Found off the coast of Australia and New Zealand, the blobfish (yes, that's what it's really called) is rarely seen by humans — and thank goodness for that. It lives at extreme depths — anywhere from 2,000 to 3,900 feet (600–1,200 meters) — where the pressure is several dozen times higher than at sea level. To survive in these deep waters, it has essentially evolved into a gelatinous mass with a density slightly less than water — a feature which allows it to gently float above the sea floor without having to exert too much energy.
Why It's a Pokémon:
Blobfish isn't a real name! It's just not. It's just a combination of two random words to create a fictional creature, like Ivysaur, Charmander, Tentacruel and Psyduck. Also: IT IS A BLOB WITH A RIDICULOUS FACE. Not only is it a Pokémon, it's one of the more recent Pokémon, created after the designers had long since run out of ideas.
Dumbo Octopus
The Facts: Named after the Disney character, but clearly not an elephant, the dumbo octopus lives deep in the ocean at insane depths of nearly 15,750 feet (4,800 meters)! But unlike Dumbo the Elephant's ears, the octopus uses its fins to hover closely above the ocean floor as it hunts for prey. Eighteen different species of dumbo octopuses have been discovered so far, including one variety that measures 6 feet (1.8 meters) in length.
Why It's a Pokémon: No creature this adorable could possibly be an octopus. Octopuses are weird and tentacled and gross; this is practically a plush toy with a nose (at least I hope that's a nose). And I'm pretty sure those are just googly eyes someone glued onto the side.
Echidna
The Facts: Notorious for its terrifying four-pronged penis, the echidna is a porcupine-like creature that has remained largely unchanged since prehistoric times. Native to Australia, it's unique in that it's the only mammal outside of the platypus that lays eggs. The echidna is a solitary creature that spends it's time hunting ants and other bugs; it uses its 6-inch (15-centimeter) long sticky tongue to lap-up insects, after which time it grinds them into a swallowable paste.