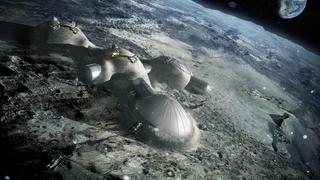 London-based design firm Foster+Partners aims to partner-up with the European Space Agency, and build structures on the Moon from the regolith found on the surface. The inflatable scaffolding would be manufactured on Earth, then transported to the Moon and covered with a durable shell constructed by robotically-driven 3D printers.
All images courtesy Foster+Partners.
This is such a brilliant idea. The scheme would take advantage of the raw materials already found on the lunar surface, while at the same time offering a highly scalable and efficient model for construction.
Indeed, the idea of using the lunar dust — known as regolith — has been considered for many years. And in fact, back in 2010, researchers from Washington State University discovered that artificial regolith — a compound consisting of silicon, aluminium, calcium, iron, and magnesium — could be used by 3D printers to create solid objects, including tools.