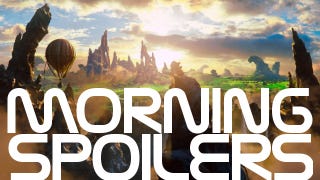 A producer for The Wolverine explains precisely why Logan ends up in Japan. Sam Raimi talks about the relationship between Oz the Great and Powerful and previous Wizard of Oz stories. One of cinema's greatest batshit insane directors wants to bring Arnold Schwarzenegger's Conan back to the screen. Plus a bunch of new photos for upcoming superhero movies!
It's all spoilers from here on out!
Top image from Oz the Great and Powerful.
Iron Man 3
Star Robert Downey, Jr. discusses a sequence from the movie and what returning costar Don Cheadle brings to the part of James Rhodes, otherwise known as War Machine:
We've just been talking about one sequence –- the top-secret name is the Boot/Glove Sequence, I can tell you that, just between you and me -– it's where Tony only has one gauntlet and one boot and he has to escape multiple captors. It's really fun, dude. We're taking everything from his first gauntlet test in the first movie up through the most extreme stuff we thought up for Iron Man 2 and The Avengers and pulling on all of it and making this one big, extended challenge of physics...

Rhodey is much more in the dead center of things. He's much more dynamic. We've made this decision that while Tony is a technical guy, he's not really a trained guy. There's a lot of fun to be had with Don because he's really good with hardware and he's a martial artist, so it's been really fun exploiting this possibility of Tony having moments like the one in Avengers, like the one with Cap where he decides, "Oh screw it, he probably knows what he's doing." So there's a lot of that and a lot more fun and a lot more depth to Rhodey this time around.
[EW]
Marvel Studios president Kevin Feige and Iron Man 3 writer-director Shane Black discuss with Empire Magazine the new character Maya Hansen, as played by The Town's Rebecca Hall:
Feige: Maya is a scientist who makes a pretty astounding discovery that leads her to places - and some are healthier than others. It's not dissimilar to what Tony's been through, and it's a great parallel.

Black: It's one thing we loved about the comic book, which was that it's someone Tony meets in one capacity at one point in his life, and he proves to be touched by that encounter. We needed a snappy and exciting actor to play the part, and not make it this 'female scientist who takes off her glasses and suddenly she's beautiful!' There's a certain element about her being the female Robert Downey Jr in a way.
---
The Amazing Spider-Man 2
While the big casting news is that Marc Webb is apparently trying to build a Sinister Six composed entirely of stars of the 2004 Best Picture Nominees — next up, expect to see Thomas Haden Church back as Sandman, plus Leonardo DiCaprio as Mysterio, Johnny Depp as Morbius, and Clint Eastwood as Vulture, obviously — there are also reports of another new cast member. British actress Felicity Jones, who is probably best known in the US for her main role in the 2011 romantic drama Like Crazy, is reportedly in negotiations for an undisclosed role. [Heat Vision]