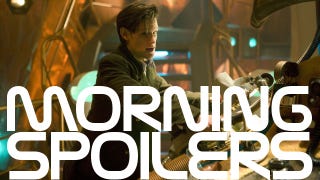 The craziest Doctor Who rumor of them all has officially dropped. Robert Rodriguez and Joseph Gordon-Levitt preview Sin City: A Dame to Kill For. Vin Diesel releases the latest Riddick photo. Plus intriguing Arrow, True Blood, and Teen Wolf rumors!
It's all spoilers from this point forward!
Top image from Doctor Who.
Iron Man 3
Marvel Studios head honcho Kevin Feige digs deep into Tony Stark's mindset heading into Iron Man 3, explaining how profoundly the events of The Avengers affected him:
"So much of the journey of 'Iron Man 3' is informed by Tony's experiences in 'The Avengers. It's almost like post-traumatic stress: he really has retreated after the events of 'The Avengers' into his workshop, where he's building advanced versions of his suits. He has [designed] a version of the suit that can latch onto him in individual pieces ... anytime, anywhere. As he starts to realize, it's basically because he doesn't want to be out of the suit: he's seen a lot of things in 'Avengers' and has encountered a lot of powerful people, much more powerful than he is.

"It brings us back to the Tony we met in the first part of 'Iron Man' where he's removed from that convoy and brought to the cave with nothing but a box of scraps. It's fun for all of us to watch Tony try to figure out how to get out of that scenario. Much of the movie is Tony in the middle of the country without his tools and a fairly broken suit to help him. But that's his superpower: he wasn't born on Asgard, he wasn't hit by gamma rays, and he doesn't have the super soldier serum. His power is his brain. It's fun to put Tony Stark in a corner with nothing and see how he can get out of it."
He also explains how he, writer-director Shane Black, and the rest of the creative team approached the villainous Mandarin, as played by Ben Kingsley:
"We felt there was leeway to explore the Mandarin in a way that hasn't been explored before. We found we couldn't point to any sort of definitive Mandarin story in the comics- but if you print this, I'm sure a million fans will point to a specific story - so as we've done with many of the films, we did an amalgamation. The Mandarin is relentless: he's a non-stop threat, and you've seen that in the first teaser trailer when Tony Stark's house tumbles into the sea. He doesn't mess around, this guy."
More stuff at the link. [MTV via Coming Soon]
---
Transformers 4
Relative newcomer Jack Reynor, who recently joined Mark Wahlberg as the first confirmed human cast members of the new Transformers movie, discusses his preparation for the role:
"I'm training very intensely at the moment. I'm going to keep that up until we shoot. I'm going to do some different courses, some different things I need to pick up for the film. My character seems to be a race car driver so I'm going to be doing a couple of driving courses and getting out on the track... I went through quite a rigorous audition process out in L.A., and after a certain amount of auditions and meetings with different executives, I managed to pull it off... I did [audition], which was an intimidating thing to do, We sat down, we had a long chat one day, which was great. I felt totally comfortable with Michael, he's a really nice guy, but, you know, in the back of your mind he is such a huge director and he does these really high scale type of films. It can be a bit intimidating, but I went for it as best I could and it came out alright... I haven't met [Mark Walhberg] before, but I'm really excited. He's one of my favourite actors. I just think he's brilliant. I have a huge amount of respect for him as an actor so I can't wait to get on set with him.''
[TFW 2005]
---
Riddick
Here's the latest still image from the film, courtesy of Vin Diesel's often wonderful, always ridiculous Facebook page. [Vin Diesel]
---
Mad Max: Fury Road
Here's a set video from the recent filming in Namibia for George Miller's Mad Max sequel, starring Tom Hardy and Charlize Theron. [Bleeding Cool]

---
R.I.P.D.
Kevin Bacon describes his villainous turn in the upcoming undead cop movie starring Ryan Reynolds and Jeff Bridges:
Yeah, he's a villain, but it's much lighter [than The Following]. It's funny. He's a goofball. He turns into a zombie. He's not a serial killer.
[Collider]
---
Sin City: A Dame to Kill For
Robert Rodriguez discusses some of the cast members who recently filmed scenes for the sequel, and he also confirms Bruce Willis will be back as Hartagan:
[Juno Temple] just shot, she was fantastic. Her and Ray Liotta played together, they were amazing. Jeremy Piven shot just last night... we were shooting last night, all night. There are some characters from the book. It might surprise people who they play and the turns that they do... Bruce [Willis] is back, so you'll be seeing him... We have some choices in mind [for Ava Lord but] we haven't finalised the casting. She doesn't shoot for a couple weeks... We shot this in 3D. We didn't shoot Sin City in 3D. I wouldn't want to convert that one probably. The difference in shooting it is just... you can't even compare. Because this is a very two dimensional world it's very stylised. To see that kind of stylisation in 3D will blow people's mind.
New star Joseph Gordon-Levitt discusses his character, described as a cocky gambler named Johnny, as well as his excitement to work in this particular format:
"'Sin City 2' is going to be fun. [I'm playing] a quintessential Rodriguez badass. It's going to be fun as hell... I've made a lot of short films with hitRECOrd on green screen, and in my opinion, 'Sin City' is probably the best movie that's been made with that methodology. So I'm very eager to see how [Rodriguez] does it."
[MTV]
And let's go back to Rodriguez for some more:
"The only story we've shot is the intro story, that's completely done. The other ones we've just sort of been piecemealing, shooting as the actors become available. All three stories have a little bit of footage to be shot. [Jospeh Gordon-Levitt] plays a gambler. A very cocky gambler that comes in and tries to beat the biggest villain in Sin City at his own game. The story is called 'The Long Bad Night', he beats the wrong guy at a game...bad stuff happens to him."
---
Doctor Who
Well, it was only a matter of time before some brave rumor-monger threw caution to the wind and dropped the alpha and the omega of Doctor Who rumors — Omega not included, incidentally — by claiming that all eleven Doctors will be featured in the 50th anniversary special this November. Yes, even the very much deceased William Hartnell, Patrick Troughton, and Jon Pertwee are going to put in appearances and, even more unbelievably, Christopher Eccleston might even show up. Admittedly, it's probably very likely that all eleven Doctors will appear in much the same way that all eleven Doctors appeared at the end of "The Eleventh Hour" — that is to say, with lots of archive footage involved — and return appearances by at least one or two former Doctors are hardly implausible. But including all eleven Doctors in any substantial sort of way seems way more unlikely, and the report's claim that the special "will use studio trickery to resurrect the first three Doctors – William Hartnell, Patrick Troughton and Jon Pertwee – in brief flashback scenes" doesn't really explain much at all about how their inclusion would work, insofar as it really doesn't seem to make all that much sense unless they're planning on using old footage and maybe some sound-alike actors to do their voices. Anyway, this should only be taken with the most liberal heaping of salt, but unless someone wants to claim the special will also bring back every companion living and dead, every monster, and Peter Cushing's spin-off Doctor Who for good measure, I think we've officially found the most outlandish possible Doctor Who anniversary rumor. But, yeah, I still would kind of like it to be true. [Birmingham Mail]
---
The Walking Dead
Here's an exceedingly low-quality promo for the return of season three. [Update: There's a much better, hi-res version of the trailer here.]