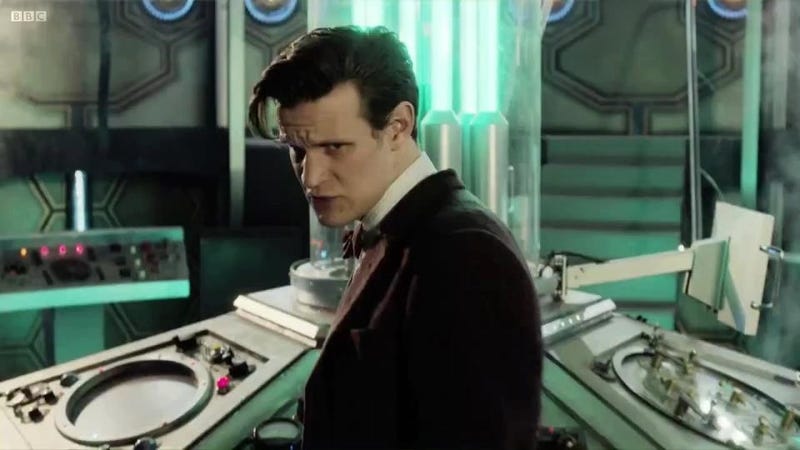 There are many reasons to be sad that Fringe is over. But chief among them is the fact that its passing leaves a conspicuous vacuum: there's just not a lot of science fiction on television any more. Fringe reveled in its science fiction trappings, featuring a mad scientist hero and stories about time travel, future mutants and alternate universes.
Now that Fringe is no longer with us, what's left of science fiction on television? And is there any hope that science heroes could make a comeback? Let's take stock.
So it's not true that there's no science fiction left on television. Here are some shows that are on now or coming soon:
U.S. Shows
Falling Skies is coming back this summer, or maybe late spring. And it's a full-blown show about an alien invasion and a post-apocalyptic world, complete with multiple different alien races that we're just starting to learn about. Also, there's the whole ongoing storyline where most of the children have been fitted with alien "harnesses."
Defiance is coming to Syfy in April. This is also a show about the aftermath of a war with aliens, some of whom now live on Earth. It appears to be delving pretty deeply into the aliens and their culture, as well as how the world has changed after the war. And there's an MMO that crosses over with the TV show. Fingers crossed!
Person of Interest is about the world's first true artificial intelligence, a machine that can see everything that happens via webcams and surveillance cameras and use it to predict future events with astonishing accuracy. As the show has gotten into its second season, we've learned a bit more about the Machine and had more overt discussions about the nature of A.I.
Revolution is coming back in March. And even though Eric Kripke and company could easily have said all of the world's energy and power was shut down due to black magic — especially with Kripke's Supernatural pedigree — they chose to go with science. We've glimpsed a supercollider, which seems to have something to do with it. Kripke even claims to have vetted the premise with a physicist. Image via Revolution Fancast.
The Neighbors is on now — and it's basically your standard Married With Children-style sitcom about family life, except the neighbors are all aliens. Including an alien family, who interact a lot with the human family. We learn dribs and drabs about the aliens' culture in every episode.
Beauty and the Beast is coming back this week. And it's definitely a show that could have been fantasy — as far as I know, the 1987 show that it's based on was purely magical. But the new show has completely revamped the Beast's origin, making him the result of military "supersoldier" experiments that mutated his DNA. He's sort of like the Hulk, actually.
Touch is coming back in February, and it's sort of mystical but sort of sciencey — Jake the mute child can see the connections between numbers and see what's going to happen (sort of like the Machine in Person of Interest.) And I guess Jake can see the "pain of the universe" through the numbers, because he understands how everything in the world is connected.
Orphan Black is an original show coming to BBC America in March, and it's about a woman who discovers that she's one of a huge set of identical clones. You can see the first trailer for it here.