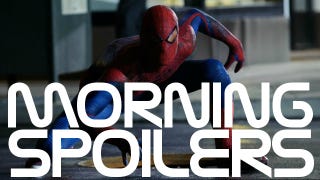 One of Marvel's latest superheroes could be crossing over to The Avengers 2. Check out new trailers for Oblivion and the Evil Dead reboot. Ryan Murphy keeps on talking about American Horror Story's next season. Plus Hugh Jackman hints at tons of returning mutants in X-Men: Days of Future Past!
Spoilers from here on out!
Top image from The Amazing Spider-Man 2.
Iron Man 3
The Facebook page for the Hollywood Orchid Suites posted this message to guests that effectively doubles as a set report for the past weekend's Los Angeles reshoots:
It is going to be an exciting weekend here at the Hollywood Orchid Suites as 'Iron Man 3′ is filming additional scenes in Hollywood on January 21, 2013. Film crews plan to shoot wide-angled shots from cranes positioned high overhead "to capture the full scope, color and liveliness of Hollywood" while they "blow up" Grauman's Chinese Theatre. There will be flashes of light, debris being propelled out of the courtyard towards the street and about 30 cars driving by with obligatory fender benders. The shoot will cause street closures on Hollywood Blvd., between Highland Ave. and Orange Dr., Highland Ave. and McCadden Pl., beginning on Monday, January 21, 7:00 p.m. through Tuesday, January 22, 4:00 a.m. and possible increased noise from generators, cranes, film crews, etc. Iron Man 3.
---
Thor: The Dark World
Erstwhile Doctor Who star Christopher Eccleston says his Dark Elf character, Malekith the Accursed, is "a bad guy with no redeeming qualities" and that Malekith is trying to take over the universe with the very vocal encouragement of Tom Hiddleston's Loki. [Comic Book Movie]
Lost alum Adewale Akinnuoye-Agbaje shares some experiences from his work as secondary villain Kurse:
Yeah, I mean look: I can recall the scene. I'm in the scene and Renee Russo is in my arms or beside me and I'm facing Anthony Hopkins and Chris Hemsworth and Chris Eccleston–and just about every great actor within that genre is in the room and you just realize it's a great privilege and honor. To be opposite Anthony Hopkins and to watch him work is just... amazing.

I think that's the most exciting part about it–the fact that you're going to be rolling up your sleeves and getting dirty. As an actor, that's what turns you on. That's what we did, is put on those costumes and we went for it, toe to toe, pound for pound, including those choreographed fights. It wasn't blue or green screen–they obviously need a certain amount of that but there was a lot of stuff that we–that I certainly did. I pretty much did everything myself. Obviously the dangerous stunts were done by stuntmen but I enjoyed the process of choreographing the fights; that was fun.
He also mentioned that he filmed scenes "out in Iceland on these black volcanic mountains." [Comic Book]
---
Captain America: The Winter Soldier
Toby Jones has now confirmed that he will indeed return as the villainous Armin Zola in the Captain America sequel. His confirmation can be seen towards the end of the video interview below. [HeyUGuys via Comic Book Movie]

---
The Avengers 2
This is most definitely tenuous, but Anthony Mackie — who is playing The Falcon in Captain America: The Winter Soldier — was asked twice about appearing in both the Captain America and Avengers sequels in a recent interview and failed to correct the interviewer about his appearance in Joss Whedon's next Avengers movie. So... he might be in it? There were some reports way back in October that Frank Grillo would be playing the villain Crossbones in both Captain America: The Winter Soldier and The Avengers 2, so the idea of bringing in some supporting players from Captain America — likely in a role roughly the size of Gwyneth Paltrow's cameo in The Avengers — doesn't seem impossible, but anything bigger than that is much more speculative. [Comic Book Movie]
---
The Amazing Spider-Man 2
Speaking of tenuous, Chronicle star Dane DeHaan premiered a new film at Sundance over the weekend, and he was reportedly introduced as playing "Green Goblin" in the Amazing Spider-Man sequel. This is being taken by some as confirmation that DeHaan's version of Harry Osborn will be suiting up as Green Goblin during the film, but it just as easily could have been a reference to the character's past activities in either the comics or Sam Raimi's trilogy. Either way, an eventual transformation into Green Goblin seems decently likely for DeHaan's Harry Osborn, but anything beyond that is just guesswork and inference from not a whole lot of anything. [Bleeding Cool]
The Descendants actress Shailene Woodley says she's excited to play Mary Jane Watson in the sequel, although she doesn't know enough yet about the film to say for sure whether she has a love triangle with Andrew Garfield's Peter Parker and Emma Stone's Gwen Stacy, or indeed if she will be dying her brown hair red for the role — although she says she's assuming she will indeed become a redhead for the part. [MTV Geek]
---
X-Men: Days of Future Past
Wolverine actor Hugh Jackman very strongly implies there's a bunch more old X-Men returning for Bryan Singer's latest:
"You wouldn't have enough room on the page after you've listed them all. 'Every other actor who's ever put on a superhero uniform will be in it. There's an element of time travel and, naturally, it will be action-packed."
---
Oblivion
Here's a trailer for Tom Cruise and Tron Legacy director Joseph Kosinski's post-apocalyptic sci-fi epic.

And here's a promo photo. [/Film]
---
Riddick
Here's an interview with costar Katee Sackhoff, who of course is best known for her work as Starbuck on Battlestar Galactica. [I Am Rogue]

---
Transformers 4
New franchise star Mark Wahlberg discusses why he signed on for the project:
"I think it will be the most challenging role that I've played and it's an opportunity for me to do something extremely different. It's going to be very different from what the first ones were. I'm excited about it. When I talked to (producer) Steven Spielberg and Michael and said, 'Don't worry guys, this is not me taking a paycheck and running with it. This is me trying to do something different.'... It's the first time [my children have] ever been excited about me going off to do a movie, and they demand to be in it."
[TFW 2005]
Elsewhere, Wahlberg suggested he starts filming Transformers 4 in May, and then he will be working on the Ted sequel by September, meaning his portion of filming could only run from May to August, though more realistically he will have some time off between projects. That suggests a somewhat shorter production schedule than that of Dark of the Moon, although it's of course entirely possible that there will be more principal photography without Wahlberg being involved. [TFW 2005]
---
Kick-Ass 2
Here's the first official image from the upcoming sequel, showing an encounter between Aaron Taylor-Johnson's Kick-Ass and Jim Carrey's Colonel Stars and Stripes, the leader of the fledgling Justice Forever superhero team. [Pop Culturology]
---
Evil Dead
Here's another trailer for the upcoming reboot, directed by Fede Alvarez and starring Suburgatory's Jane Levy, similar to the red band trailer that came out recently. [Shock Till You Drop]