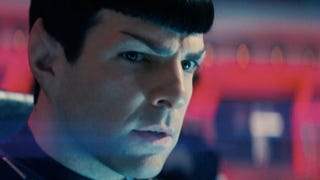 One of the big mysteries of human evolution is what happened to all the humans who shared the planet with Homo sapiens for hundreds of thousands of years. While Homo sapiens was evolving in Africa, there were also tool-making hominins in Europe and Asia, known as Homo erectus, the Denisovans, and the Neanderthals. And let's not even get started on Homo floresiensis, the so-called Hobbit people. Did all those human groups meet at some point? Did they interbreed or kill each other? Is it even appropriate to call them all human, or were some human and some animals?
Star Trek has the answers to these questions. And they are just as tangled and frustrating in science fiction as they are in real evolutionary science.
The Most Annoying Star Trek Episode Ever Written
Even if you aren't a Star Trek fan, you are probably aware of the much-loathed Star Trek: TNG episode "The Chase," where we learn that humans, Romulans, Klingons and every other humanoid we've met are in fact from a common ancestor whom we'll call the Doughfaces (you can see why from this picture). Through a series of improbable events, the Enterprise eventually finds a secret holographic message from the now-long-gone Doughface representative, who says:
We knew that one day we would be gone, and nothing of us would survive - so we left you. Our scientists seeded the primordial oceans of many worlds, where life was in its infancy. The seed codes directed your evolution toward a physical form resembling ours: this body you see before you, which is of course shaped as yours is shaped, for you are the end result. The seed codes also contain this message, which is scattered in fragments on many different worlds.
OK, yes, this is absurd and you can see why people hate this episode. As Peggy Kolm has already pointed out brilliantly on Biology In Science Fiction, it makes no sense that every group would have evolved the same way on a variety of planets, and you can't "direct" evolution with "seed codes."
But if you ignore all that, you wind up with a pretty interesting portrait of evolution in Star Trek that happens in some ways to mirror our own on Earth. First, we already know that some groups of aliens can interbreed. There is the half-human, half-Vulcan Spock; there is the half-human, half-Klingon B'elanna Torres, the half-human, half-Betazoid Troi, and many other minor characters too. This only makes sense if they are all descended from the Doughfaces, though there are some episodes where it's suggested that the mixed-race people are the product of technological tinkering.
So what does this have to do with human evolution?
The Common Ancestor
Humans and our ancestors are called hominins (here's a good explanation of why), while the greater group of humans and apes are called hominids. All the groups I mentioned earlier are undeniably hominins, and all came from the same common ancestor as Homo sapiens did — the Doughfaces of humanity are called Homo ergaster or Homo erectus. Obviously Neanderthals didn't get their Romulan-esque brow ridges from some kind of panspermia event with "directed evolution". Instead, different human groups simply left Africa at different times, scattering across Eurasia. Because Homo erectus left Africa a million years before Homo sapiens did, the two groups evolved separately for quite a while. Same goes for the ancestor of the Neanderthals and Denisovans, who also left before H. sapiens did.