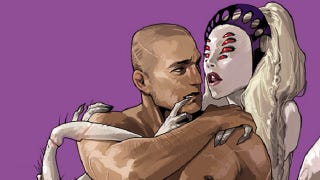 Some of the most beloved comics creators are putting out work this week — Darwyn Cooke and Paul Pope are both unloading some creator-owned goodness, Frank Cho is putting Wolverine in the Savage Land, and there's a new issue of Brian K. Vaughan's Saga. And meanwhile, Batman is still facing massive destruction in "Death of the Family," and the Martians are attacking the Ghostbusters. Plus John Byrne is doing space opera!
Check out everything you need to know about this week's haul of comics, below!
Top image: Saga #9
---
New Issues
Dark Horse has the first issue of Black Beetle: No Way Out, in which the Beetle is investigating Colt City's mob bosses, until a mysteroius explosion takes them all out. And there's also a new issue of BPRD 1948.
And from Dynamite, there's Bionic Man Vs. Bionic Woman #1, which is just what it sounds like.
DC Comics brings us Threshold #1, following up on the Green Lantern: New Guardians annual. Keith Giffen is reinventing the DC Universe cosmic characters, and bringing the same kind of mania that he brought to Lobo and Justice League International. Basically, a bunch of space-faring characters are stuck on a hostile planet where they're being hunted to death by the planet's citizens in a televised game. Among the people being hunted: rogue Green Lantern Jediah Caul. It's pretty much exactly what "Keith Giffen does The Most Dangerous Game on an alien planet" sounds like.
DC also has the first issue of Insurgent (pictured at left), in which the U.S. government creates a sleeper army of ordinary citizens using nanotechnology — and then someone starts activating these unknowing soldiers for nefarious purposes. A new American Civil War looms on the horizon, unless a former bounty hunter can be convinced to stop it.
Also from DC: tons of Batman titles. "Death of the Family" continues with Batman #16 and Batgirl #16, plus there's Batman: Arkham Unhinged #10. And meanwhile, Superman's new Super-family is facing off against the Kryptonian monster H'el in Superboy #16. There's also Demon Knights #16, which we had a preview of the other day. Plus Frankenstein Agent of SHADE, Legion Lost, Grifter, Ravagers, and a few other things.