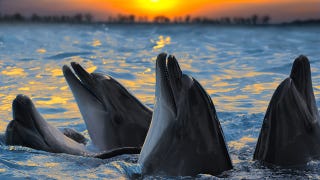 As humans, we like to think that we have a monopoly on living the good life. But we shouldn't assume that other animals don't also enjoy their lives and revel in their extraordinary abilities. Here are 9 animals that are probably having more fun than you right now.
Before we get started, it's important to note that many of the animals listed here appear to be living extremely worthwhile and exciting lives — but that's from our perspective. For all we know, being an airborne apex predator or a shape-shifting aquatic cephalopod is as banal as walking or brushing our teeth (but I doubt it). We're deliberately anthropomorphizing, here — but that's the point. We're having fun imagining what life must be like as another creature.
1. Dolphins
Nearly everyone wonders what it would be like to be a dolphin. And indeed, they certainly look like they're having fun. Dolphins, of which there are over 36 different species (including orcas), have large hydrodynamic bodies that are perfectly adapted to the water, allowing them to reach speeds of 25 miles per hour (40 kph). They use this speed to full advantage, sometimes travelling in excess of 100 miles (180 km) per day. Studies show they have a neurological architecture very similar to our own, and are capable of passing the mirror test. They've been observed to play (I once body-surfaced alongside a bottlenose dolphin in Florida), and even create their own art. They communicate with each other using a complex series of clicks, burst-pulses, and whistles, which they use for echolocation and signature names (yes, dolphins actually have their own names). They also live in fission-fusion social arrangements, which means dolphins come and go between pods as they please — no questions asked. They have a very liberal attitude towards sex — exchanging partners at will and engaging in orgies. Of course, being a dolphin has its challenges; males have been known to get sexually aggressive with both females and males.