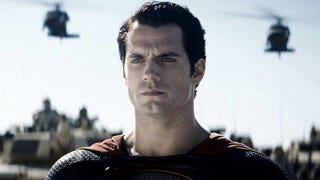 This summer, everybody is going into a very dark place. Superman is growing an underwater beard and getting angsty, Iron Man is getting his soul crushed, and Star Trek wants you to know that it's going into darkness so badly, they put that in the title. So if you're planning to film an epic story about a legendary hero, you better invest in some night-vision lenses, is what we're hearing.
But how can you make your hero's journey really really dark? Not just sort of fuzzy and gray but holy crap I can't see my hands dark? We dug deep and discovered some clues to the Ultimate Formula of Darkness.
So your first movie about a hero is usually the actual hero's journey, where he meets a crone, makes out with his sister and wrestles his father over a pit of chinchillas or whatever. At this point, thanks to Star Wars, we all know the hero's journey well enough to stumble through the oversimplified version of Joseph Campbell's one-size-fits-all monomyth in our sleep. But then what do you follow that with? Sequels tend to be either another spin on the same track, or some kind of unholy mess. But luckily, a few years ago, we had The Dark Knight — and everybody learned what comes after the hero's journey.