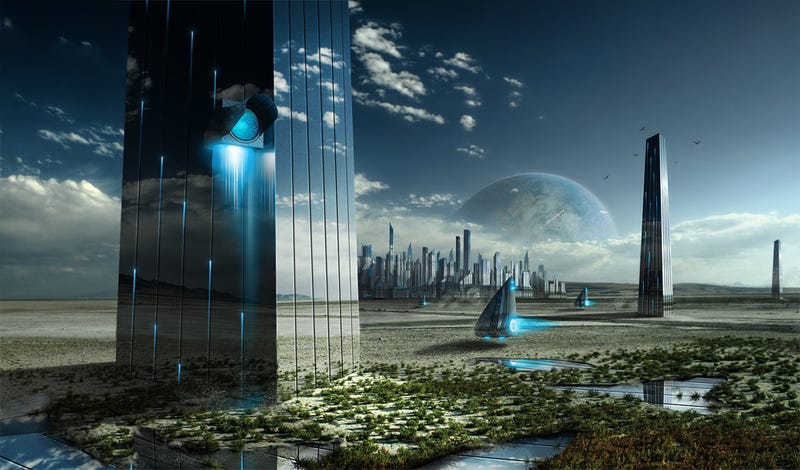 The Golden Age of science fiction is long over. But some of the genre's greatest moments haven't arrived yet. There are major landmarks in the history of science fiction that are just on the horizon — and some of them could arrive in your lifetime. Technology may have caught up to science fiction in some areas, but it's going to be transforming the genre in others.
Here are 10 landmarks in the history of science fiction that could be happening in the next few decades.
Top image: Magic Fox/Deviant Art.
1) First video game to get nominated for a Hugo or Nebula Award
Seriously, has this not already happened? I did a lot of searching through the list of past nominees and didn't see any games. And it's not that long ago that a graphic novel or comic had never been nominated for a Hugo — and now, of course, we have the "Best Graphic Story" category. But in the age of Mass Effect and Portal, it seems inevitable that a game will be nominated — maybe in the "Best Dramatic Presentation, Long Form" category? Some of the richest storytelling and best worldbuilding in science fiction is happening in games right now, and who knows how complex they'll be 10 years from now.
2) The first science fiction author in space
Again, hard to believe this hasn't already happened. We've already had the first science fiction movie shot in space. And commercial space flight is getting cheaper and easier, with the launch of space tourism in our very near future. It's just a matter of time before some science fiction writer — either someone already famous, or an ambitious up-and-comer — decides to take a trip up there. Or maybe someone living in space will decide to write an SF novel? (Update: Various people have pointed out that Buzz Aldrin and other astronauts wrote or co-wrote SF novels after returning to Earth. So I guess the only thing that hasn't happened is an already-established SF author going to space, or someone writing an SF novel while in space.)