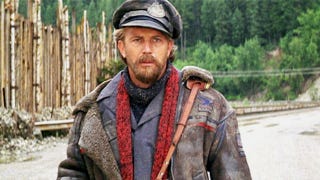 So I'm riding through the post-apocalyptic American northwest when it suddenly hits me — stamps. No one is putting stamps on their mail. I'm missing a gold mine of opportunity here. Seriously, I charge everybody a quarter per letter, and I could retire in like five years. The only question is what do I put on the stamps? My head says skinny Elvis, but my heart says Fat Elvis. I'd love to hear your suggestions for the first stamps of the post-apocalypse — as well as your questions — at postman@io9.com. Now, on with your letters!
The Frakking Dead
Matt G.:
Would having sex with a zombie be necrophilia? Most people accept "necrophilia" to be "sex with the dead" while zombies themselves are "undead" ...or would it be the definition of "sexual attraction to corpses" which (in that case) might fit well with zombies. Interesting...
Interesting… and super gross. I suppose it's really all a matter of semantics; since zombies are often called the living dead, the walking dead or even just "the dead," I'd say most people would call sex with a zombie necrophilia, and in terms of word use, that's really all that matters.
Now, say if the zombie apocalypse happened and people were shtupping zombies left and right and it started a national debate on whether this horrible, disgusting practice should be called necrophilia, well, then we'd probably have to think of something different. Since we get most of our "-philias" from Latin, and the Latin verb for "to live" is vivere, as seen in words like "vivisection," I think we could probably go with "vivinecrophilia" for a specific attraction to the living dead.
This Is IT
Eric O.:
I was reminiscing about the golden age of computers with some co-workers the other day, thinking fondly of the days we would have to manually program our mainframe (in order to boot it) by flipping toggle switches on the front panel and pressing a separate "enter" button in order to enter the boot sequence instructions. This was a long and laborious task, even after the invention of a paper tape reader.

It suddenly struck me that if there had been a computer help-desk hotline in those days and we had problems with our computer, how would we have reacted to the all-too-common "Have you tried rebooting your computer?"

How would the world of computers be different now if the worst stereotype of help-desk hotlines had existed in the 1960s, 1970s, and 1980s?
Wow. First of all, bonus points for this wonderfully weird question. And yes, by default the IT crowds of yore would have to work harder just to achieve the miracle balm known as "turning it off and on again," because as you've described, turning those ancient computers off and on again was no simple task.
However, the only people who owned computers in the '60s were universities and major corporations, who would have had experts on staff. They wouldn't need a help line, because they could handle it themselves. By the end of the '70s, how many people had personal computers? Maybe 500,000 or so? You could probably hire five guys with actual patience to staff that tech support line.
Memory of Light
NN:
Hello Good Sir:

Just finished reading your article on bringing back the Greek gods. I'm a doctoral candidate majoring in Philosophy (who also teaches Comparative Religion), and this sort of thing is almost exactly my cup of tea.

My question is, why, exactly, don't traditional arguments for the existence of evil convince you? I'm quite fond of St. Augustine's, as I remember writing an essay on it during my first semester as an undergrad (my first "A"!). I actually quite like it; broken legs hurt, and so do broken worlds.

I'm rather disappointed that you dismissed this point so casually.