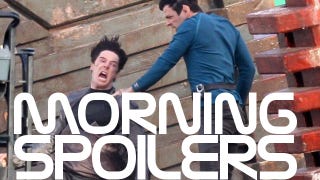 Check out the first clip from the second half of the animated Dark Knight Returns adaptation. Showrunners Jonathan Nolan and Greg Plageman discuss what's ahead on Person of Interest. No, Twin Peaks isn't really coming back. Plus American Horror Story spoilers!
It's nothing but spoilers from here on out!
Top image from Star Trek Into Darkness.
Star Trek Into Darkness
New cast members Benedict Cumberbatch and Alice Eve, who play the villainous John Harrison and potential love interest Carol Marcus respectively, discuss the journey that Chris Pine's Kirk travels in the sequel:
Cumberbatch: Seriously though, Kirk really goes through it by the end of the film... The boy – sorry, the man – was so tired carrying that film, I've got to say. He's brilliant in it, I'm really excited to see his performance.

Eve: A lot of us in the film, especially Spock and Bones, serve as Kirk's alter egos of logic and morality, but I do think in this film, after winning the captaincy in the previous movie, we see him earn it… spiritually, really, and sort of philosophically. Other ways than the practical earning of it.

Cumberbatch: It's like he's the son in the first and the father in the second, almost, don't you think? Not as an actual father, though, that's not a storyline at all, but I mean that he's become a father to his crew.
There's a bunch more at the link on their experiences making the film, which involves plenty of praise for their fellow actors. [Empire Online]
Here are some high-quality version of some previously released photos. [Coming Soon]
---
Robocop
Composer Pedro Brofman, who previously worked with reboot director Jose Padilha's Elite Squad movies, has reportedly been hired to score the new Robocop. [Film Music Reporter]
---
Snowpiercer
Here's the complete collection of concept art for the post-apocalyptic train movie — we already featured some of these yesterday. [The Playlist]