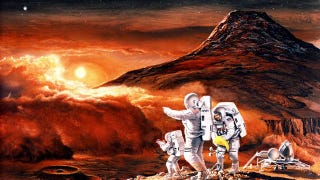 Beyond a few brief trips to the Moon over four decades ago, humanity has never ventured outside of Earth's protective magnetic field. And while it's natural to dream of exploring the stars, such voyages may carry impossibly high medical risks.
That's the finding of researchers at the University of Rochester Medical Center, who have undertaken the latest study examining how prolonged time spent in deep space could affect human astronauts. The big issue is radiation — without the planet's magnetic field to act as a shield, astronauts in deep space would be exposed both to the fierce energies of solar flares and the persistent hum of what's known as galactic cosmic radiation.
Now, solar flares can be dealt with — we might have to ground our deep space flights for a couple decades when they get really intense, but that's not the end of the world — but it's the other, more subtle radiation that is harder to overcome. Prolonged exposure to cosmic radiation has previously been linked to increased cancer risk, cardiovascular problems, and musculoskeletal issues.