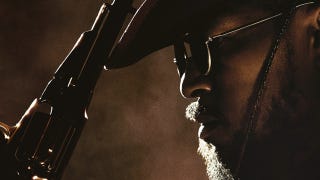 Two years before the Civil War, a freed slave named Django becomes a bounty hunter because he can't think of any job more awesome than killing white guys for money. Wearing anachronistic sunglasses, accompanied by his preternaturally anti-racist white partner Schultz, he shoots his way through the South with one burning mission in mind. He wants to rescue his wife from slavery.
Is it alternate history? Pure fantasy? Spaghettisploitation? Just another weird art movie from Quentin Tarantino? In a sense, Django Unchained (released Christmas day) is all of these things. Most of all, it is anything but realism. It's a film that couldn't exist without all the tricks and tropes of speculative storytelling. But is this really the kind of tale that should be told as a genre romp?
If you are looking for a review of Django Unchained, go somewhere else. This is an essay about the movie — which has been in theaters all week — and it contains both analysis and spoilers.
An Alternate History
What separates a liberal reinterpretation of history from alternate history? It really depends on how you define alternate history, but I would argue that Django Unchained fits the bill. A classic alternate history question is, "What if the South won the war?" In Django, the question is, "What if one ex-slave won a battle against a plantation owner?" It's a smaller, more personal alternate history, but nevertheless a powerful and seductive distortion of true events.