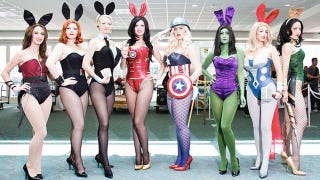 This year, our eyes beheld some truly innovative and mind-blowing cosplay. We saw gender-swapped characters, Evil Dead hats, and elaborate costumes that included as many as five cosplayers. Not to mention Rockabilly Batman, Superhero Princesses, Furry Jesus, and a heap of characters straight out of Brian K. Vaughan's Saga.
We sat down and skimmed through every convention gallery, cosplaying website and halloween how-to guide and came up with our picks for the very best cosplay creations from 2012. Here they are.

Behold the Avenger Bunnies from San Diego Comic-Con 2012. Taken by Sebastian Jespersen on Flickr.

A Dragon*Con wedding re-creates Astonishing X-MEn No. 51, so much love! Photo by Pat Loika.