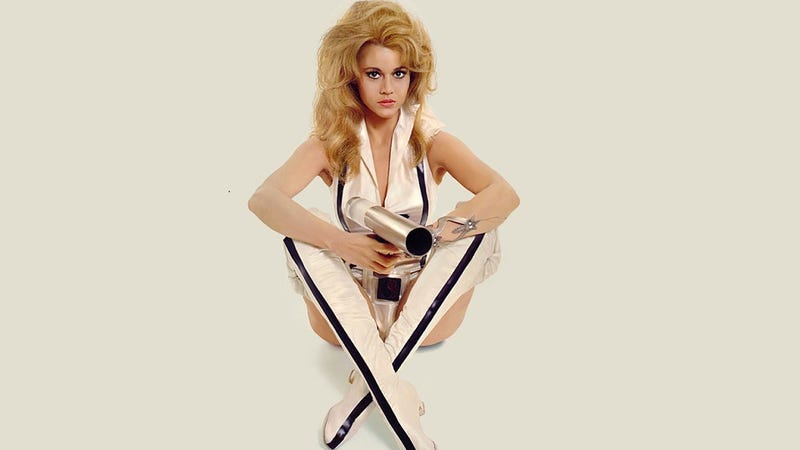 Science fiction has long encompassed every aspect of human experience — including sex. For as long as we've dreamed of going to space, we've dreamed of getting it on there. And porn has embraced science fiction as well — from 1968's softcore masterpiece Barbarella to the 1990s cyberpunk boom to the recent craze for porn spoofs, there has always been science fiction porn. After all, porn is an escapist genre when you get right down to it. And the line between a science fiction "B" movie and a softcore porn film is often more seethru than Jane Fonda's breast bubbles.
Here are the greatest science fiction porn films of all time, from 1961 to 1991. It's NSFW! Note: There are a number of exploitation films on this list, but no horror, since that's a very different category. Likewise, no fantasy. Also, if we missed your favorite, please chime in in the comments! With such a huge and sweeping topic, I'm sure we missed some stuff. We'll be covering 1992 to the present very soon.
Nude on the Moon (1961)
"Nudist colony" films were a staple of early softcore film-making, and Doris Wishman was one of the masters of the genre. But it was a particular stroke of genius to create a nudist film set on the Moon, eight years before humans actually landed there. Why is the Moon full of naked ladies? With antennae on their heads? It's never entirely clear, but apparently there's a breathable atmosphere thanks to all those trees.
Barbarella (1968)
The original softcore science fiction porn film, which would probably be R-rated today. Jane Fonda's blonde mega-mane and anime eyes radiate sexuality. It starts with a zero-G spacesuit strip show in Fonda's shag-carpeted space capsule, and then she fights off angry dolls in her ripped stockings. Plus she hooks up with a hunky space angel. Best bit: Durand Durand puts Barbarella into his sexomatic Excessive Machine, only to have her burn it out with her over-the-top tantric energy.
Space Thing (1968)
And then there's this all-out sexploitation film, in which a man reading a science fiction magazine in bed with his wife falls asleep... and dreams that he's on a lesbian spaceship, where the sadistic Captain Mother forbids the female crewmembers to get it on with men. At left is our absolute favorite scene, where the main character Granilla disintegrates another man who's jealous that the women are sleeping with Granilla — and then a naked woman shows up to explain disintegration. Another nearly naked woman helpfully shows up and adds, "He had it coming." See more clips from Space Thing here.