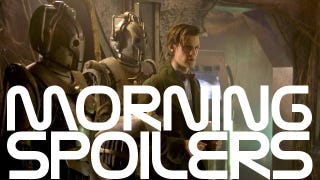 Kirk may be installed as Captain of the Enterprise at the start of Star Trek Into Darkness, but that doesn't mean he's secure in that role, as some new plot hints make clear. Maybe Guardians of the Galaxy hasn't found its Star Lord after all. Joss Whedon and Patrick Stewart are excited for S.H.I.E.L.D. and X-Men: Days of Future Past, respectively, even if they can't say very much. Could Bubba Nosferatu still happen?
Spoilers from here on out!
Top image from Doctor Who.
Star Trek Into Darkness
We already saw some promo images for the upcoming Star Trek sequel from Empire Magazine, but now here's a new snippet of plot description: