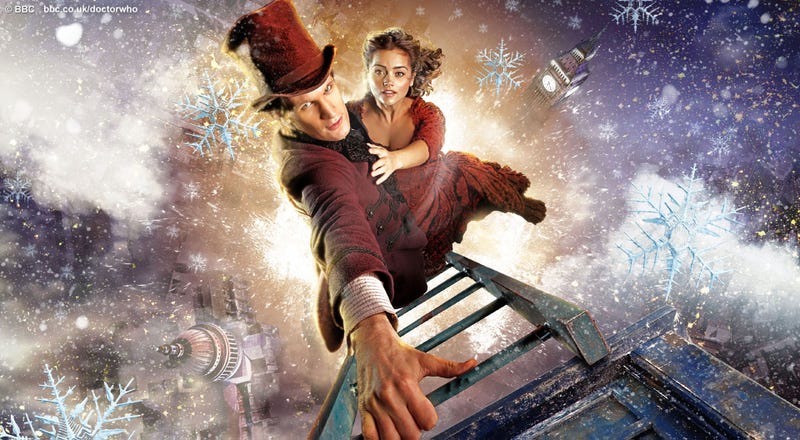 The last time we saw him, Doctor Who's heroic time traveler was helpless, and alone. So this year's Christmas special, "The Snowmen," comes with a huge question: Can the Doctor get his mojo back? (And can "The Snowmen" be more like Matt Smith's first Christmas special, the amazing "Christmas Carol," and less like last year's Narnia-themed outing?) We'll find out the answers to these questions tomorrow night! But meanwhile, there's also a Doctor Who-related Christmas event that you didn't see coming.
Other than that, it's something of a slow week for television — but we've managed to dig up some treats amongst the week's listings.
Today:
The Science Channel is having an all-day marathon of Firefly, culminating in a repeat of the 10th anniversary reunion special at 10 PM. Nothing wrong with tuning out your "real" family and tuning in the family of oddball space adventurers that Joss Whedon gave us.
In the afternoon, Syfy is showing both the direct-to-DVD Stargate movies (which I have a weird soft spot for, especially Continuum) from 2:30 to 6:30 PM.
---
Tuesday:
USA is showing all four Indiana Jones movies, plus The Mummy and one of the National Treasure movies (for comparison purposes?). And the first G.I. Joe movie. Meanwhile, BBC America has a marathon of recent Doctor Who episodes all day.
K-9 Christmas Day Marathon (All Day, Syfy):
Can't wait for the Doctor Who Christmas special? Syfy has an early Christmas present for you — they're showing a marathon of the (widely panned) Australian K-9 show, starring the Doctor's robot dog, all day from 10 AM to 11 PM. To my knowledge, this might be the first time K-9 has been shown in the United States. The show isn't explicitly a Doctor Who spin-off, but it does star the Doctor's tin dog. I've never watched much of it, so maybe it's actually decent. In any case, it's an unexpected bonus, right?
Doctor Who (9 PM, BBC America):
It's an all-new Doctor Who! New companion, new TARDIS interior, and apparently a new focus on the wacky friends who helped the Doctor rescue Amy back in "A Good Man Goes to War." Here's the synopsis:
Christmas Eve 1892 and the falling snow is the stuff of fairy-tales. When the fairy-tale becomes a nightmare and a chilling menace threatens Earth, an unorthodox young governess, Clara, calls on the Doctor for help. But the Doctor is in mourning, reclusive and determined not to engage in the problems of the universe. As old friends return, will the Doctor really abandon humankind or will he fight to save the world – and Christmas – from the icy clutches of this mysterious menace.
Leverage (10 PM, TNT):
The series finale, due to the fact that TNT cruelly yanked the plug on this series in its prime — provoking a Twitter firestorm the other day. And they're killing it on Christmas! At least the final episode guest stars the indispensible Mark Sheppard. Here's what's on tap:
"The Long Goodbye Job" – When Nate takes a case linked to his son's death, he leads the team into their riskiest and deadliest con.
Also on TV tonight: Science is showing three hours of Fringe from 8 to 11. There's a new Doomsday Preppers on National Geographic at 9 PM.
---
Wednesday:
More Doctor Who marathon all day on BBC America, focusing on season six this time. Relive those heady days when the astronaut first climbed out of the lake!
In the evening, Flix is showing The Black Hole, Highlander III, and Hellraiser: Hellworld. That's a pretty interesting combo. It all starts at 6:15 PM.
Dark Matters: Twisted But True (9 PM, Science)
The second season finale. This time around, John Noble explains the backstory of Typhoid Mary — yes, the Daredevil villain. (It's a crossover.) Here's what's up:
"Magical Jet Propulsion, Missing Link Mystery, Typhoid Mary" - Included: a combination of sorcery and rocket science; a skull found in 1912 that provided clues to human evolution; the story of Mary Mallon, aka Typhoid Mary, who was the first known asymptomatic carrier of typhoid fever.
---
Thursday:
Today's BBC America marathon: Star Trek: The Next Generation season four. Apart from that, there's really nothing else on today. Sorry about that.
Also on TV tonight: Travel has a new Mysteries at the Museum at 9.
---
Friday:
The only thing on TV today: Cinemax is showing Alien: The Director's Cut at 8 PM. Apart from that, it's basically a dead zone. Consult this list of TV shows you can stream online, instead.