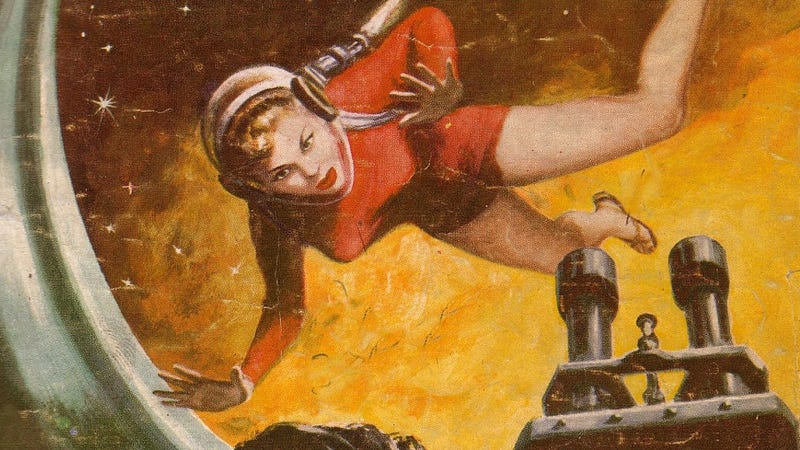 Genres don't have to be comfortable old pairs of socks. Genre storytelling can be thrilling and unexpected — and one major way to seize the element of surprise is to bust out of genre boundaries, like a rocket sled crashing through the walls of dreamland. Drop some nanotech into that literary story. Nuke the fairy kingdom. Or screw mash-ups — just create something that nobody can taxonomize.
Here are nine totally exhilarating ways to shatter genre boxes, and dance on the pieces.
Images via Micky the Pixel and Jamie Anderson.
Before we get started, let's first acknowledge that of course, there's something immensely satisfying about a well done example of a particular genre. There's nothing wrong with a book or movie or comic that does things you've seen before, but brings new life to them. But at the same time, creative destruction is the way that genres thrive and grow.
1. Find the unquestioned assumption at the heart of your favorite story — and then explode it
Every story makes assumptions and builds on ideas that you're not supposed to think about or notice. This is just as true for big, genre-defining works as it is for everything else — maybe even more so. Sometimes, authors are aware they're making certain unwarranted assumptions, sometimes they're not. But either way, if you want to find a fresh take on a type of story that you love, try and find the thing you're not supposed to be looking at, and stare at it. To some extent, this is what Alan Moore and friends did to superheroes back in the 1980s. To celebrate your favorite subegenre, find all the ways it doesn't make sense, and exploit them. Expose what the magician is doing with the other hand.
2. Tap into the yearning that created a genre, and follow it a different direction.
Siegel and Schuster didn't set out to invent an archetype that would spawn (no pun intended) a million imitators. They were a couple of nerdy guys who just fantasized about being ridiculously powerful, strong enough to stand up to bullies. Over time, the original reason why someone might dream about a boy wizard or a Civil War veteran on Mars tends to fade away, leaving just a shiny archetype that everybody recognizes. But if you can ignore the final result for a bit, and try to tap into the emotion, the ideas, that originally gave rise to those icons, you can come up with something totally different and yet connected to the source.
3. Create characters who don't know they're in a genre story.
This is harder than it looks, because in real life, most of us are aware when we're living inside a particular genre. Like if you fall in love, and suddenly it feels like you're in a chick flick. Or when you're taking a shower at a spooky motel, and you feel like you could be in a slasher movie. (Looper director Rian Johnson explained this to us back in 2008.) In real life, we're all absurdly genre-conscious — and yet, the more powerfully we're in the grip of something, the less that awareness of genre is likely to come to the fore. Not only that, but being unaware of what genre of story you're in also means you're less likely to behave like a genre character. In real life, if you find out a family secret, you probably won't go on a road trip — that's just something that happens in a lot of literary stories. In real life, you'd probably just obsess over it and maybe go clubbing.