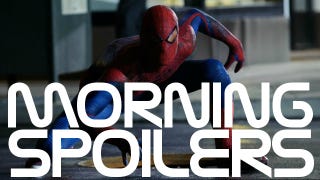 Robert Downey, Jr. drops some Iron Man 3 hints. Samuel L. Jackson talks about the future of Nick Fury. Check out a new video interview with Star Trek Into Darkness stars Benedict Cumberbatch and Alice Eve. Mad Max: Fury Road finishes filming at long last. Plus another possible Guardian of the Galaxy star!
Nothing but spoilers from here on out!
Top image from The Amazing Spider-Man.
Star Trek Into Darkness
Here's a lengthy interview from IGN with new cast members Alice Eve, who plays Kirk's presumed love interest Carol Marcus, and Benedict Cumberbatch, who plays a villain who theoretically might be called John Harrison, but nobody really believes it. [Via Coming Soon]

---
Iron Man 3
Star Robert Downey, Jr. lavishes some praise on two of his co-stars, legendary thespian Ben Kingsley... and former Iron Man director Jon Favreau, who is back again as Happy Hogan:
Jon Favreau reprises his role as Happy Hogan. Happy has an amazing arc in this movie. In fact, probably the best two bits of acting in the movie, so far from what I can tell...which sucks because I'm in every frame, are Favreau as Happy Hogan...I can't give away much, but it's ridiculous. And also Sir Ben Kingsley [as the Mandarin]. Kingsley is amazing. And a lot of that had to do with the way that [director] Shane [Black] crafted the role for Sir Ben. I think that people are gonna be not [totally] surprised, but they're gonna be just reinvested in what a brilliant actor Kingsley is."
Speaking of Shane Black, Downey explains just what the Kiss Kiss Bang Bang writer-director brings to this latest Iron Man film:
"Shane Black really knows the superhero genre, but I think the main thing [that's great about him] is that he's always looking at complexities within complexities [and so on]. And he always likes it when a film kinda stops for a reason you can't understand and then kinda picks up and goes in a direction you've never imagined. Usually when you have a straight-forward narrative, if at act 1, 2 or 3, 'There's Tony, Tony's in trouble, where's Pepper, Tony wins.' By the time we were doing the 2nd one, I was like 'where's Pepper.' Shane is just a genius!"
There's more at the link, including how Black was instrumental to the success of a crucial scene in the first Iron Man. [Comic Book Movie]
Erstwhile Rubicon star James Badge Dale also discusses the movie, in which he plays the villainous Eric Savin, otherwise known as Coldblood:
"[Iron Man 3] is really a dark comedy with a little bit of farce. The trick is to be able to have the audience relate to you. Director Shane Black gave me a long leash. We had a great time. Robert Downey Jr. loves the process of acting and loves to be creative with a director and his fellow actors."
---
Captain America: The Winter Soldier
Samuel L. Jackson confirms his role as Nick Fury in the Captain America sequel will be more substantial than a cameo, likely along the lines of his role in Iron Man 2. He also said he still enjoys playing the character, and he's not ruling out a spin-off movie that sheds some light on his backstory:
"I think a lot of people know that. "I know him as something else because I've been alive longer than most of the fans that watch the movies so I know Nick Fury as the World War II veteran and all that stuff. It might be interesting to do one day but we find out little bits and pieces about Nick and we're going into 'Captain America 2' in late March."
---
The Amazing Spider-Man 2
Collateral and Django Unchained star Jamie Foxx discusses just what to expect from his villainous turn in Marc Webb's Spidey sequel, in which Foxx plays Max Dillon, alias Electro:
"You'll see that in his whole life, no one is talking to him. People have stolen his ideas at the big company. He's a nobody. At a certain point, Spider-Man bumps into him and says, 'You're my guy. You're my eyes and ears on the street. And he says his name - no one has ever said [Max] Dillon's name. He sort of starts thinking that somehow, he's Spider-Man's partner. He's cutting out Spider-Man's face and pasting it on all his boards... Everything goes bad with his mom. She doesn't remember his birthday. He has something tragic happen and, when it turns on, he lights it up."
Foxx's costume, however, will be rather different from the bright greens and yellows of his comic book garb:
"It won't be like that. Marc Webb and all of those guys, they're smart. They know that it has to make sense in 2013, so the suit is really slick. It's actually black. It's a new age."
[MTV via Coming Soon]
---
Guardians of the Galaxy
Jack Huston, who as Boardwalk Empire's Richard Harrow must surely have the highest ratio of awesomeness to amount of face in television history, confirms he has screen-tested for the lead role of Star Lord in Slither director James Gunn's cosmic superhero movie, despite having recently suffered a broken rib doing some of his own stunt work:
"There was a screen test. Like I said, brittle bones. Maybe they'll call me Glass Man. 'Here he comes. Oh, he fell over.' I would love to do it. I tell you, these bones are strong. If you need a guardian to look after this galaxy, look no further."
---
Dawn of the Planet of the Apes
Now that Rise of the Planet of the Apes director Rupert Wyatt has exited the sequel in favor of Cloverfield's Matt Reeves, star James Franco is fairly sure he won't be back:
"I was going to be a small part of the next one. There was a moment when Rupert Wyatt was going to direct the second one. A lot of the human characters that were in the first movie were dead in the sequel that Rupert was going to direct. But there was one scene, between Caesar and my character, maybe even just like on a video that was left behind, but then a lot of things happened, like [former Fox co-chairman] Tom Rothman who was a big part of the first movie, left. Now Rupert's not a part of it so I don't know. My guess is I won't be in it. Nobody's talked to me since Rupert left."
[IGN]
---
Mad Max: Fury Road
Much like the endless delays and misfortunes that beset The Hobbit made the whole thing appear to be the universe's cruel joke at Peter Jackson's expense until he actually managed to finish the damn thing (and then tack on another three hours to it, but that's another matter), George Miller's long-delayed, eternally troubled fourth Mad Max film sure seemed like it wouldn't survive the natural devastation in Australia that forced production to shift to Namibia and then all the reports of budget and schedule overruns once production finally began. But lo, Miller has seemingly emerged triumphant, as he has reportedly completed the six months of principal photography. Of course, there's still "substantial post-production and visual effects work" left to do, so there's still time for this to fall apart completely. Not that I'm rooting for that, you understand — after all, this is the film with by far the greatest plot summary of all time: