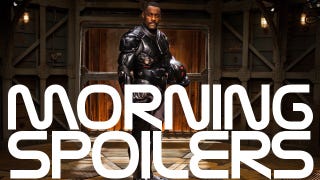 Director Guillermo del Toro takes us inside the Pacific Rim trailer. Peter Jackson reveals his plans for the Adventures of Tintin sequel. Johnny Depp's Transcendence is close to finding its second computer genius. Plus Tron 3 is really, definitely happening!
Spoilers from here on out!
Top image from Pacific Rim.
Star Trek Into Darkness
For what it's worth, Benedict Cumberbatch just revealed the identity of his villain — and he's saying it's John Harrison, the name revealed in a recent official caption and one that quite decidedly isn't Khan, Gary Mitchell, or anyone else who has previously appeared in the Star Trek universe... which, now that I think about it, should be exactly what we all want, but somehow all the uber-secrecy has flipped my brain. Anyway, here's what Cumberbatch has to say about the good Mr. Harrison:
"I play John Harrison who's a terrorist and an extraordinary character in his own right. He's somebody who is not your two-dimensional cookie cutter villain. He's got an extraordinary purpose, and I hope that at one point or other in the film you might even sympathize with the reasons he's doing what he's doing — not necessarily the means and the destruction he causes. But it was a great ride, not just because he's the bad guy and the antagonist but also because he has a purpose and it's hard not to see his point of view at certain points."
---
The Wolverine
Here's a new poster for Hugh Jackman's latest foray as Wolverine. Check out the link for an animated version of the poster. [Coming Soon]
---
Pacific Rim
Director Guillermo del Toro has offered some commentary and explanation for the recently released trailer, including just why two pilots are required for the Jaeger robots: