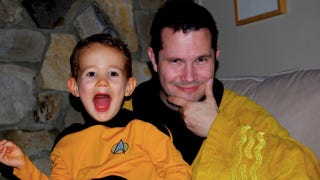 It's official: Geek dads are the new MILFs. They build robots, sequence genomes, draw comics, write superhero movies, study the cosmos, rule the internet, and represent for the geeks in pop culture — plus they're awesome dads at the same time! Who doesn't get a little warm tingle contemplating all that? For your further contemplation, io9 has put together a gallery of some of the sexiest geek dads in the galaxy. These are the guys you wish were your dad — or who you kind of want to make some babies with. Either way, they're sexy because they have geek powers, and because they're raising a new generation of adorable, amazing kids. And now, meet the sexiest geek dads this side of Andromeda.
In order to make this list, we asked permission from all the dads (some of whom also asked permission from their spouses!). Some of the geek dads didn't want to appear on a "sexiest" list because they wanted to keep their family lives private — which, we have to admit, is kind of sexy too. So we didn't get to include everybody we wanted, but you can add as many names as you want to this list in the comments. Geek dads are just so sexy that the list could literally go on for pages!
Adam Savage
Known For: Co-Host of Mythbusters
Geek Dad Superpower: He destroys things for a living, which is pretty much the most awesome thing a dad could ever do. The father of adorable twin boys, Savage is also in solidarity with other geek dads. When Patton Oswalt's daughter wanted her dad to dress as Doc Ock for Halloween, Savage helped make the suit.
Photo by Michael Shindler/Photobooth

Wil Wheaton
Known For: A charmingly geeky acting and writing career, beginning when he was a kid playing Wesley Crusher on Star Trek: TNG
Geek Dad Superpower: In between acting and writing his popular blog, Wheaton also took on the role of father to his wife's son Ryan. When Ryan grew up, he asked Wheaton to adopt him officially. Awwww.
Photo by Atom Moore.
Anil Dash
Known For: A social media entrepreneur with a conscience, he founded ThinkUp and was the first employee at Six Apart, the company that helped make social media a mainstream phenomenon.
Geek Dad Superpower: He co-founded ThinkUp (originally designed to help voters express their opinions to the U.S. government), and works as an adviser to sites like Donors Choose, Dash has helped to make the web a place you'd want your kids to use. He always brings a human (and humane) touch to his work, treating his many followers online to smart analyses of the media as well as cute pictures of himself with his son Malcolm.
Photo by Dash's wife Alaina Browne.


Zack Stentz and Ashley Miller
Known For: This writing duo got their big start working on Terminator: Sarah Connor Chronicles, moved over to Fringe, then started writing movies. They penned Thor and X-Men: First Class. They are currently writing the remake of Starship Troopers, and are developing some television shows.
Geek Dad Superpowers: Stentz and Miller both take plenty of time out of their busy schedules to teach their kids what is best in life: sword fighting in the living room (Stentz' wife Leah Glynn noted that there is a reason they have no furniture in the living room), and cosplaying as Star Trek characters. We are confident these kids are in very good hands.
Photo of Stentz swordfighting with his kids by Leah Glynn
Photo of Miller and son Caden cosplaying as two generations by Robert Meyer Burnett.
Greg Rucka
Known For: He's the multiple Eisner Award winning comic book writer behind Action Comics, Batwoman, Detective Comics, and the miniseries Superman: World of New Krypton, among many others.
Geek Dad Superpower: Rucka almost single-handedly made Batman cool again, and his run on Wonder Woman was incredible (he even wrote an essay about why he loves to write strong female characters). This is the kind of imaginative, funny, sympathetic guy you trust to take care of your favorite characters — and to be an awesome dad for his daughter, too.