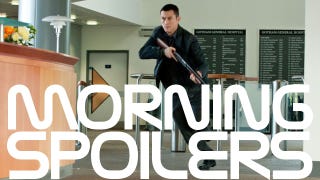 Probably not, but a very important person isn't quite denying it. J.J. Abrams keeps talking up Benedict Cumberbatch's Star Trek villain, whoever he might be. John Barrowman discusses his Arrow villainy. Plus go deep inside The Hobbit's visual effects!
Spoilers from here on out!
Top image from The Dark Knight Rises.
Star Trek Into Darkness
Our eloquent protestations notwithstanding, director J.J. Abrams still isn't saying a damn thing about who Benedict Cumberbatch is playing. But he's happy to talk about how the Sherlock star is playing whoever his character is: