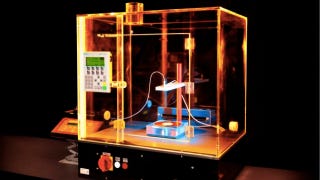 The trouble with the word "nanotechnology" is that it refers mostly to an idea from science fiction and futurism: nanoscopic, self-replicating machines that can turn any piece of matter into another piece of matter in seconds. These do not exist. In the real world, materials scientists, physicists, and biology researchers are working at the nanoscale to build everything from stretchy circuit boards and self-healing plastic to super condoms and cancer medicines. Here are eight innovations that actually exist at nanoscale, and could be about to change your life.
Electro-spinning machine image via IME
1. Super Condoms
Using a simple nano-fabrication technique called electro-spinning, researchers have successfully manufactured a fabric woven from sperm-blocking fibers knitted together with anti-HIV drug delivery fibers. The result is a female condom that prevents pregnancy, guards against HIV transmission, and then evaporates within hours or days depending on how it's manufactured. It's the world's perfect condom, and the Bill and Melinda Gates Foundation has just given the researchers $1 million to manufacture them for a mass market.