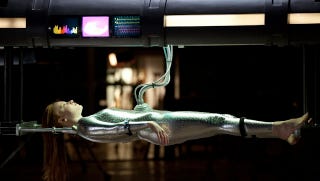 It's a fate that's only comparable to death. The coma, typically the result of a massive head injury or drug overdose, is a medical condition that continues to frustrate physicians, while also causing great anguish for friends and family members. But neuroscientists are starting to understand the condition a bit better — even catching a glimpse of what it's like to be trapped in a vegetative state.
Top image from the Sony Pictures 2012 miniseries, Coma.
The comatose state
Simply put, a coma is a deep and profound state of unconsciousness from which a patient cannot be woken.
A person in a coma is not brain dead — far from. In brain death, both conscious and cognitive functions have permanently ceased, what is typically the result of excessive damage to the cerebral neurons after the brain has been starved of oxygen. A comatose patient, on the other hand, is alive but completely unable to move or respond to their environment.
As far as neuroscientists can tell, patients in a coma have lost their thinking abilities and are utterly unaware of their surroundings; it's as if they're fast asleep. Comatose individuals are unable to respond to painful stimuli (like pin pricks or pinches), light, or sound. They're also unable to voluntarily move their bodies, feel, speak, or hear.
Recently, functional neuroimaging has provided new insights into the cerebral activity of patients in comas caused by severe brain damage. Unlike some patients in a vegetative state — a related condition we'll review in the next section — comatose patients do not exhibit any kind of neural patterns that would indicate conscious awareness, even after various forms of stimulation.
At the same time, however, comatose patients still have their non-cognitive capacities. They're able to breathe on their own, and their organs and blood circulation continues to function without external intervention. And they often twitch and move involuntarily.
Comas rarely last more than a month. It's more common than not for a patient to emerge from a coma after a few days or weeks. But in some unfortunate instances the comas persist. This scenario is often referred to as a vegetative state.
Most people who emerge from comas claim that they don't remember a thing — it's as if they were in a deep sleep. But some former comatose patients, like Geoffrey Lean and Aubrey Allyn, claim that they were conscious the entire time — they were just not able to control their bodies and wake up.
Even worse is the account of Rom Houben, a Belgian man misdiagnosed as being in a coma for 23 years — but was fully conscious the whole time. It turned out that he wasn't comatose at all — he was paralyzed, but unable to move or communicate. After successful treatments to alieviate the paralysis, he had this to say: