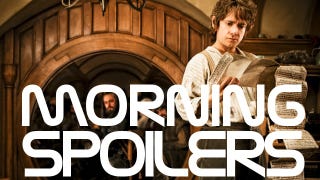 Patrick Stewart discusses returning to the role of Professor X in X-Men: Days of Future Past. There is a ton of behind-the-scenes footage from The Hobbit. Joss Whedon turns in his outline for The Avengers 2. J.J. Abrams explains how IMAX takes Star Trek Into Darkness to the next level. Supernatural adds another Winchester. Plus Doctor Who, Pacific Rim, Walking Dead, and more!
Spoilers from here on out!
Top image from The Hobbit: An Unexpected Journey.
Man of Steel
Producer Christopher Nolan, who also helped develop the story with screenwriter David Goyer, discusses whether Zack Snyder and Henry Cavill's Superman movie will follow the lead of his own consciously grounded and gritty Dark Knight trilogy:
"Well, somewhat. But I wouldn't want people to think we're doing for Superman what we did for Batman. It's very much Zack's film and I think people are going to love what he's done. I think it's really remarkable to take on that character. Superman is a completely different character than Batman. So you can't in any way use the same template. But David Goyer had this, I thought, brilliant way to make Superman relatable and relevant for his audience. Zack has built on that and I think it's incredible what he's putting together. He's got a lot of finishing to do on that. Superman is the biggest comic book character of them all and he needs the biggest possible movie version which is what Zack's doing. It's really something."
Here's Jor-El actor Russell Crowe on why he took on the project — I think he's trying to convey how Jor-El's sacrifices are the ultimate, heartbreaking illustration of a father's love for a son he can never know, but man does this quote sound weird out of context:
"It afforded me a wonderful opportunity to put a specific thing in the minds of 14 year-old boys. And that is that the bravest thing you can do, the most important thing you can ever do, is love."
---
Justice League
While Christopher Nolan seems to be pretty definitely done directing superhero movies, there's still the question of whether he could help Warner Bros. develop their putative Justice League franchise in much the same way he did with Man of Steel and in much the same way Joss Whedon is overseeing the Marvel universe and Mark Millar is supervising Fox's superhero films. Regarding the possibility, Nolan gave this kind of negative, kind of ambiguous non-answer:
"Well, as I've said, and I'll say definitively again, I am done with the Batman films, the trilogy is completed. It ended in the manner we had envisioned. Well, I'm producing Superman now and I'm enjoying time off and taking a break."
---
X-Men: Days of Future Past
Patrick Stewart took some time out from his vital ongoing task of just sort of generally being the awesomeness that is Patrick Stewart to discuss what's going on with the X-Men: First Class followup:
We are, you know, under contractual oath with 20th Century Fox to say nothing about any prospective X-Men movie including the old team. I use "old" advisedly. So it's a kind of awkward position, because lovely Bryan Singer just blurted it all out there. For me the big thrill is knowing that Bryan Singer is attached to this movie, because not only is he a brilliant director, but also I adore him and hope that it might be true and that we do work together at some point in the future. But I'm not being coy. I know nothing about this project. And I'm hoping that might change in the future.

Other than the fact that you're doing it?
I don't know that we're doing it. I have not signed a contract yet. I know there is a project in development, but we have no dates. No detailed casting. Thrilled to hear that my dear friend and colleague Ian McKellen is on board, but I'm sorry, you know, you need to understand, I'm not being cute. I know nothing.
Tons more, including Stewart's thoughts on Star Trek: TNG season two, at the link. [EW]
---
The Avengers 2
It's a minor but still not unimportant milestone — according to a new EW interview, Joss Whedon turned in an outline of the sequel to Marvel a little while ago. [EW]
---
Star Trek Into Darkness
Director J.J. Abrams describes his experience shooting the Star Trek sequel in IMAX:
It was amazing. Part of it was challenging because of the technical aspects of it, the machinery of it. The cameras themselves are a little unwieldy and a little loud and unpredictable. But then you go to dailies and you watch on this massive screen these images that you've shot having been filmed on a negative that's eight times bigger than what you normally use, and you cannot believe how good it looks. So that's exciting! But unlike [Mission Impossible:] Ghost Protocol, a lot of what we shot is integrated into special effects and visual effects in a way that I cannot wait for people to see. I think it really is mind-blowing, how it looks. The IMAX frame, I think, is really the best way to see a movie.
[IGN]
---
Pacific Rim
Legendary Pictures clearly is feeling really good about Guillermo del Toro's blockbuster giant robots vs. giant monsters movie, as they have hired original screenwriter Travis Beacham to start working on a sequel script. Of course, much with that Green Lantern 2 script, this sequel project could very quickly turn to nothing if the movie isn't the mega-hit that its $200 million budget requires. But hey, no reason to not be optimistic about this, really. [Heat Vision]
---
The Hobbit
Director Peter Jackson offers this encapsulation of how The Hobbit differs from Lord of the Rings:
Tolkien's novel gave us that. It's returning to Middle-earth with a brand new story, and largely new principal characters - certainly apart from Gandalf, who does return. It is a different tone. I mean, Tolkien wrote The Hobbit 20 years before The Lord of the Rings. It's the origin of a lot of the events that culminate in The Lord of the Rings. But it's much more of a children's, whimsical fairy tale.

This movie has a whole mob of crazy, wild, temperamental dwarf warriors, but they're still far better behaved than the Feebles.
Right. [Laughs.] Yes they are, indeed! The comedy was one of the joys of this movie. It allowed us to let our hair down a little bit. The Lord of the Rings was very apocalyptic, end-of-world heavy, which was appropriate to the book Tolkien wrote. But we wanted this to be appropriate too. The Hobbit is almost written like as though a chapter would be the nice size for a parent to read to children at night before bed. It's very episodic, by chapter. We wanted the movie to reflect a little of that.
[EW]
To accompany the six recently released sneak peek clips, here's over twenty minutes of behind-the-scenes B-roll footage from the filming of The Hobbit: An Unexpected Journey.