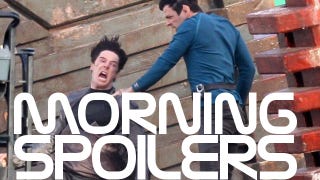 The Amazing Spider-Man 2 officially adds an Oscar winner. Doctor Who's Sylvester McCoy drops some Hobbit knowledge. Star Wars legends Rick Baker and George Lucas discuss their potential roles in Episode VII. Plus some intriguing Legend of Conan details!
Spoilers from here on out!
Top image from Star Trek Into Darkness.
Star Wars: Episode VII
George Lucas offers a fairly straightforward encapsulation of his "consultant" role in Disney's future Star Wars films:
"[If the filmmakers ask],'Who's this guy?' I can tell them. I mean, they have a hundred encyclopedias and things, but I actually know a lot. I can say, 'This is this and this is that.' Basically I'm not - I don't really have much to do."
Meanwhile, legendary makeup designer Rick Baker says he wants back in on the Star Wars franchise, and he offers a rather cogent argument as to why the series needs to get back to at least a little bit of its practical effects roots:
"I think the problem that people have with the digital stuff is the problem I have: Just because you can do anything doesn't mean that you should. Instead of having a spaceship battle with three spaceships, they have 3,000 spaceships. Everything is so big and there's so much going on, you lose reality. It takes you out of it."
The Amazing Spider-Man 2
Somewhat lost in the shuffle of the big announcement that Chronicle's Dane DeHaan is playing Harry Osborn was the other, possibly even bigger news that Collateral and Django Unchained star Jamie Foxx is indeed playing the villain Electro in the sequel. Here's what Foxx has to say about it all: