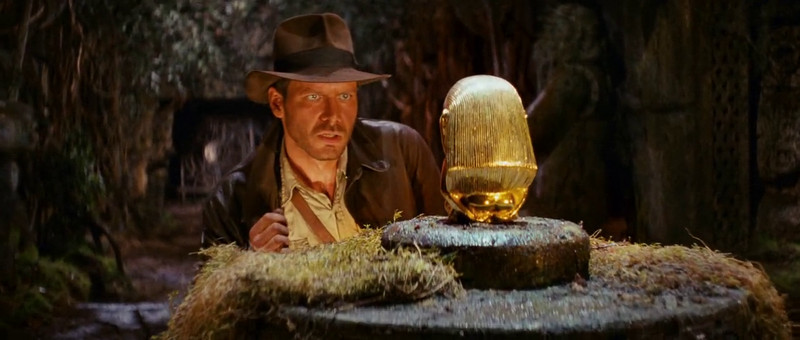 Many of our favorite movies feature quiet, introspective moments or deep philosophical discussions in between the scenes where everything is exploding and everyone is running in every possible direction. And that's great. But sometimes, you just want a movie that hits the ground running, and keeps running at top speed, until the credits.
Here are 12 movies that are basically just pure nonstop fun, from beginning to end. With pretty much no slow parts.
To create the most authoritative and serious list of movies that are pure fun, we asked you for your input, via our Facebook page. And then we applied some discretion, taking out any film that we felt had more than a certain amount of slow scenes. We also tried not to make this list all 80s movies, because it easily could have been. And we also threw in a couple films that people hadn't mentioned. Here are the dozen selections we ended up with:
1. Raiders of the Lost Ark
Steven Spielberg and George Lucas set out to make a tribute to the adventure serials of their youth, and they succeeded beyond anyone's wildest dreams. This movie is so fast and energetic, they Travel by Map. Like the Muppets! Character is established by drinking-games scenes and boulder chases. What is not to love?
2. Time Bandits
Terry Gilliam's story of a boy who encounters a crew of time-traveling larcenists does actually have some creepy moments and moments of heart-breaking emotion where Kevin bonds with Sean Connery or learns about his new friends. But a ton of people voted for it, and we decided it does fit because of its propulsive episodic structure. Like the Bandits themselves, this movie just keeps jumping from place to place, and time to time.
3. Escape from New York
This story of a tough, eyepatch-wearing grunt-turned-criminal who is sent into the Maximum Security hellhole that New York has become to rescue the President is basically just a ridiculously zippy ride, propelled by the charisma of Kurt Russell. (We'll be seeing more of Kurt Russell on this list.) "You can't get much more fun than good ol' Snake," says Shawnee.
4. The Princess Bride
William Goldman's book version claims (in the title, no less) that this is the story with only "the good parts" left in. And it really does live up to that billing, even if you aren't one of those people who quotes every line from this film obsessively. Says James, "The Princess Bride is the greatest movie ever."
5. Big Trouble in Little China
Another John Carpenter/Kurt Russell collaboration. But we had no choice, really. Truck driver Jack Burton gets caught in the middle of a battle between two Chinese gangs that use supernatural powers, and then goes up the ultimate final boss: sorcerer David Lo Pan. Who's so insane, he inspired the ultimate Gangnam Style parody.