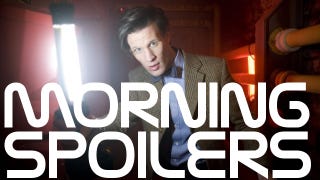 Jenna-Louise Coleman drops hints about her Doctor Who role. Joseph Gordon-Levitt apparently won't play Batman in the new Justice League film. The Amazing Spider-Man 2 might be webbing across the pond. James Cameron plans to finish the Avatar sequels scripts soon, while The Hobbit screenplay still isn't done. Plus Arrow spoilers galore!
Nothing but spoilers from here on out!
Top image from Doctor Who.
Star Wars
Because it would apparently just to be too damn straightforward for Disney to hire Lawrence Kasdan to write the middle chapter in their new Star Wars trilogy — you know, because that worked out pretty all right the last time someone tried it — the latest rumors suggest that Kasdan isn't working on Episode VIII, but rather a more general Star Wars film that could evolve either into an "official ["Episode"] in the main Skywalker storyline, or [it] could form the basis for spinoffs focusing on side characters." The same goes for X-Men writer Simon Kinberg's screenplay, which was originally reported as being Episode IX. So then, Kasdan is not writing Episode XIII, but then again, he's not not writing it either. While we ponder this Schrödinger's cat of Star Wars franchising, it's perhaps also worth pointing out that this report also seems to take it for granted that the main new trilogy will indeed be built around the Skywalkers. It's not official, of course, but it's interesting to see that that's where the rumor mill is currently going. [The Hollywood Reporter]
Separately, Collider dug up an old interview with Kasdan from 1983 where he says that Luke Skywalker's story wraps up in Return of the Jedi, implying that it's not true that the plan was always for Luke to play a major role in the next trilogy. [Collider]
---
Justice League
Hollywood.com caught up with Joseph Gordon-Levitt's reps and asked about that rumor that he was going to play Batman in this film. And apparently, they "refuted the rumor entirely." [Hollywood.com]