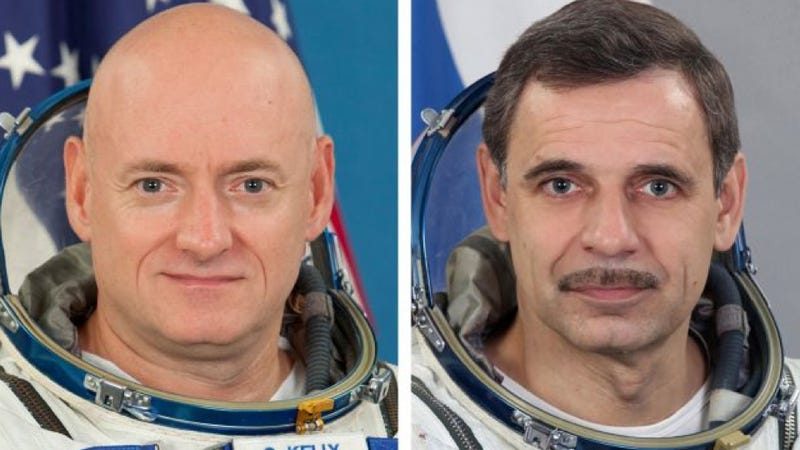 Astronauts aboard the International Space Station typically spend no more than six months in space before returning to Earth. But in spring 2015, NASA astronaut Scott Kelly will begin a yearlong sojourn aboard the orbital outpost — a voyage which, if successful, will become the longest spaceflight ever performed by an American.
Kelly will be joined by cosmonaut Mikhail Kornienko (pictured above on the right). Both spacefarers have spent time aboard the ISS in the past, but neither has spent anywhere close to an entire year in space. The pair 's two-year training regimen, slated to begin early next year, will help prepare them for what NASA makes out to be one hell of a selfless mission:
The goal of their yearlong expedition aboard the orbiting laboratory is to understand better how the human body reacts and adapts to the harsh environment of space. Data from the 12-month expedition will help inform current assessments of crew performance and health and will determine better and validate countermeasures to reduce the risks associated with future exploration as NASA plans for missions around the moon, an asteroid and ultimately Mars.
"Their skills and previous experience aboard the space station align with the mission's requirements," said William Gerstenmaier, associate administrator for Human Exploration and Operations at NASA Headquarters, in a statement.
"The one-year increment will expand the bounds of how we live and work in space and will increase our knowledge regarding the effects of microgravity on humans as we prepare for future missions beyond low-Earth orbit."
It bears mentioning that missions dedicated to understanding the impact of extended stays in space fit well with rumors of NASA's return to the Moon. Here's hoping all goes well. If successful, the mission will become the longest ever carried out aboard the ISS, though not the absolute longest continuous spaceflight — that record is held by cosmonaut Valery Polyakov, who spent 438 days in orbit aboard Russia's Mir space station between 1994 and 1995. (The U.S. record for longest continuous spaceflight is held by astronaut Michael Lopez-Alegria, who spent 215 days in aboard the ISS between 2006 and 2007.)