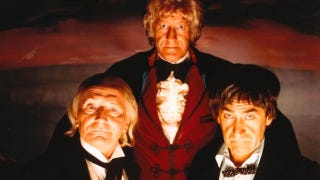 Today is the 49th anniversary of Doctor Who. And that means we're just 365 days away from the show's big 50th birthday — complete with what will assuredly be the anniversary special to end all anniversary specials.
But whatever Steven Moffat and company have planned for 2013 won't be the first grand birthday celebration Doctor Who has enjoyed. So now, let's take an authoritative look at every previous anniversary special. Strap in, this will be a strange and sometimes underwhelming ride. Featuring multi-Doctor hijinks, renegade Time Lords, a surprising amount of Nazis, hastily forgotten webcasts, and even the occasional crossover with long-running British soap operas. Let's dive in.
The 10th Anniversary: "The Three Doctors"
The first birthday that Doctor Who properly commemorated was its tenth, which is fair enough when you consider the show spent the vast majority of its first decade simply fighting for its survival. But by 1973, Jon Pertwee was entering his fourth year on the program, the show's Earth-bound approach and large supporting cast of UNIT personnel had struck a chord with the public, and the show's future seemed more assured than it had been at any point since the heady days of Dalekmania at the beginning of William Hartnell's tenure.
But now, the show was ready to end the Doctor's exile and allow him to return to traveling space and time on a full-time basis. To get back in the Time Lords' good graces, the Doctor would need to defeat his greatest foe yet. That of course would be the Time Lord founding father Omega, who spent the last few million years stuck in an antimatter universe — just the sort of opponent that might require the assistance of the Third Doctor's two predecessors.
I'm on record as saying that "The Three Doctors" is my pick for the worst ever classic Doctor Who story (although I'm such a uncritical diehard that I still rather like it). The show's record with multi-Doctor stories is spotty at best, although relatively few of the problems with the story have to do with the additional Doctors. To be sure, the 1973 production team clearly doesn't quite know how to write Patrick Troughton's Second Doctor without turning him into a bit of a silly caricature, and William Hartnell's failing health means the First Doctor only appears via a few remote cameos, although I've always found Hartnell's clear determination to participate rather endearing. Indeed, that very point is discussed in this feature from the recent DVD re-release: