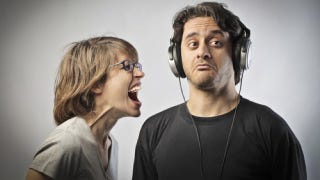 The long holiday weekend is approaching, so it's time to gear up and update your ebook readers and electronic libraries with anything that can get you through long travel stretches, cooking binges, and even longer family gatherings. Here is our list of fantastic audiobooks and ebooks that will keep you entertained for days.

AUDIOBOOKS
World War Z
A massive voice cast came together to recreate the oral history of zombie war that destroyed our planet. Alan Alda, Carl Reiner, Mark Hamill, Henry Rollins, John Turturro and Rob Reiner are just a smattering of the impressive names attached to this abridged reading.
Available at Audible.

American Gods

Neil Gaiman's Tenth Anniversary Addition audiobook won an Audie for best audiobook of the year, thanks to the giant voice cast and 12,000 additional words the author added to the anniversary addition. Stuck on Earth the great Old Gods of the past (such as Odin and Loki) live their lives trapped in a mundane existence. Their power, derived from human belief and worship, has waned and now they spend their days doing things like running funeral homes. Now the Old Gods have had enough and are ready to go to battle against the current New Gods of our world. Available at iTunes and Audible.

How To Train Your Dragon
Fly on the wings of Scottish dragons with the young Viking Hiccup and David Tennant, who lent his voice to the audio book (which was also featured in the animated movie's introduction).
Available at Audible and iTunes.

Brave New World
Between 1956 and 1957 The CBS Radio Workshop ran a two-part reading of Aldous Huxley's Brave New World introduced and even narrated by the author himself! It's stuffed with all the delightful old timey radio FX — when characters are exploring the bottling room, you can hear glass bottles clanking together in the background. It's classic.
Available for free at Internet Archive and on Spotify.

The Passage
This is 36-hour reading of Justin Cronin's deeply immersive, post-apocalyptic biotech thriller. And if you finish that, pick up The Twelve, the newly-released sequel. Available over at Audible.
Discworld
Got lots of time on your hands? Perfect — hit up Terry Pratchett's wild Discworld series.
It's set on a planet that travels through space on the back of a turtle. Explore the insane, zany world that takes cues from all of your favorite fantasy books. There are wizards, dragons, and even Death! There's so much fun fantasy and so many books to get through you'll have plenty to keep you occupied. On Audible and iTunes.
Carrie
Remind yourself that your family might not be all that bad — now go cover up your dirty pillows before dinner. Special bonus, this Stephen King audiobook is narrated by Sissy Spacek herself. META.
On Audible

A Game of Thrones
Isn't it time you finally got around to tackling this beast? George R.R. Martin's large fantasy world of Westeros comes to life thanks to narrator Roy Dotrice and his collection of 1,000 different character voices. Or go ahead and download all four ebooks at once in this bundle.
On Audible and iTunes.

A Series of Unfortunate Events #1
Pretend you're buying it for children, and then keep it for yourself. This is a great "we all can enjoy this" audiobook purchase, perfect for long car rides. Plus it's got Tim Curry for a narrator. Herkermer Homolka READS TO YOU.
Available at Audible and iTunes.

Scary Stories to Tell In the Dark
Lots of starting and stopping during your holiday? Then check out these classic terrifying tales. No need to remember names of characters or villainous motivations, just hit play and get scared in short bursts. Bonus points if you can remember the beautiful artwork that went with each story (before the publishers destroyed it). The whole collection has been uploaded to YouTube, so here ya go!