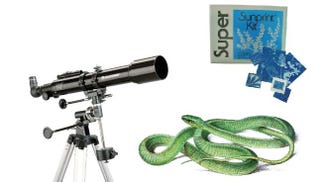 Giving science gifts is relatively hard. There are some gifts which are fun enough, but have no educational or scientific value whatsoever. Other gifts are so soaked in pure education that they're as joyless as study guides. Here, we've got the best of both worlds — the most awesomely fun and educational science gifts to buy, or make, for any age.
I have come up with a few actual science gifts that anyone can enjoy, but first I'm going to give you a quick, cheap, and plentiful chemistry set that you can gather for any young kid.
One Giant Jug of Vinegar
One Huge Carton of Baking Soda
Multiple Jugs of Bubble Solution
Candles and Matches
Cornstarch
Coffee Filters
Cabbages
Key Component: At Least Three Coupons for Dry Ice
(You can get dry ice usually from supermarkets, butchers shops, or ice cream stores. Call around.)
Bonus: Some glycerin from a drugstore
Most chemistry sets come with a lot of cool stuff as set-up, but are sorely lacking in both volume and any chemical that might possibly be a hazard, giving kids few chances to play around with what they make. One demonstration, generally done by following instructions in a book, will not give kids a good idea of the chemical principles, and also won't give them leeway to experiment on their own, which is crucial if they're going to have a good time with science. This DIY chemistry set is plentiful enough for many free form experiments and plenty of goofing around. And the dry ice will hype up the cool factor. If you can, dry to get some dry ice on the day you give the "set," so you can play around right away. If not, a bottle of coke and some mentos will probably also satisfy the immediate goof-around factor.