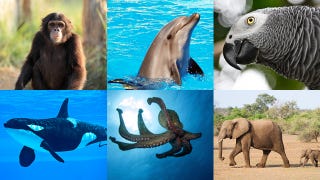 A grassroots movement has recently emerged in which a number of scientists, philosophers, ethicists and legal experts have rallied together in support of the idea that some nonhuman animals are persons and thus deserving of human-like legal protections. Their efforts have subsequently thrown conventional notions of personhood into question by suggesting that humans aren't the only persons on the planet. So what is a person, exactly? We spoke to two experts to find out.
To help with the discussion, we spoke to Lori Marino, Senior Lecturer in Neuroscience at Emory University and the Science Director for the Nonhuman Rights Project (not to be confused with the IEET's Rights of the Nonhuman Persons Program, of which I am the founder and Chair), and John Shook, a Research Associate in Philosophy and faculty member of the Science and the Public EdM online program at the University at Buffalo.
As we learned through our conversations with them, it may be some time before we reach consensus on what truly constitutes a person, but it's becoming increasingly clear that many nonhuman animals are smarter and more aware than previously thought — what will certainly upset our notions of their legal and moral standing.
The kind of beings that we are
Lori Marino, through her efforts with the NhRP, is trying to secure legal protections for a special subset of nonhuman species, a list of highly sapient animals that includes all the great apes (like bonobos and chimpanzees), elephants, cetaceans (which includes both dolphins and whales), and even some birds.
And the legal protections that Marino is talking about are not your run-of-the-mill animal welfare laws. Rather, they would be the same set of laws that protect any person — humans included.
If and when these laws get passed, nonhuman persons would be protected from such things as torture, experimentation, slavery, confinement (including zoos and water parks), and the threat of unnatural death (like hunting and outright murder). Essentially, if you wouldn't do it to a human, you wouldn't do it to a nonhuman person.
All this being said, it may seem odd to refer to nonhuman animals as persons.
"It seems strange because we are so used to thinking of persons as equivalent to human and limited to humans," Marino told io9. "But being 'human' is what describes us as a biological species. Being a person, on the other hand, describes us as the kind of beings that we are."
Semantics or science?
But not everyone is on board the idea. Critics like John Shook argue that the effort to grant nonhuman animals personhood status is both misguided and unnecessary. As a supporter of animal rights in general, he believes there's a better way.
"It is quite reasonable to protect nonhuman species from unnecessary pain and cruelty at our hands," Shook told io9. "Laws preventing such mistreatment extend protection rights, and such legal rights are 'equal' rights in the sense that persons should be protected like that as well."
Assigning personhood isn't necessary for establishing protection rights, he argues, just compassion.
"Furthermore, trying to justify assigning personhood to nonhumans runs into obstacles erected by scientific fact and a little logic, not deep philosophy," he says.
But that said, these philosophical notions are starting to be challenged by scientists.
Earlier this year, a group of prominent scientists signed the Cambridge Declaration on Consciousness in which they proclaimed their support for the idea that many animals are conscious and aware to the degree that humans are. The rest of society, they said, need to take note and behave accordingly.