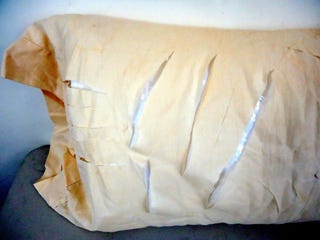 Actual Breaking Dawn Pillow Case with Sex Tears
This is the real life Bella and Edward Honeymoon Pillow, stained with makeup and with REAL SEX TEARS. Oh and it's all shredded from Edward's intense passion. He just clawed right through it, because of sex. The real life pillow was on sale at Ebay, here's how the described it.
This is the pillow used on the bed during the sex scene between Edward and Bella in Breaking Dawn Part 1. Tears and rips are visible on the pillow case. Pillow measures 36″ in length and 20″ in width. The pillowcase is a cream white and shows discoloration to show its use. Make up stains from the main actors can be seen on the pillow. Was obtained directly from the filming and production crew from Breaking Dawn Part 1. This pillow includes a Certificate of Authenticity from Hollywood PARTS.

FEATURES:
Item: Edward and Bella's Hero Pillow from Breaking Dawn Sex Scene
Film: The Twilight Saga: Breaking Dawn Part 1
Can be seen on screen during the film
Material: Feathered Goose Down
Color: Off White/Cream
Visible Make-Up Stains
Claw Marks and Tears on Pillowcase
Only known one in existence
Dimensions: 36″ x 20″
Includes Certificate of Authenticity from Hollywood PARTS
Own a Piece of Cinema History!
They were asking for 2,999.99 smackerooos. Which, answers my question about the going price for one sex tear from a Hollywood starlet. REAL SEX TEARS YOU GUYS.
[Via Ebay]
Return to the original post.