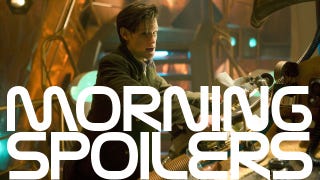 A Marvel exec reportedly spilled some pretty major Iron Man 3 details. A laundry list of famous directors have said they're not doing Star Wars: Episode VII... all except for one great director. Mark Millar hints once again that the Fantastic Four and X-Men films could cross over. There are some new pictures of Wargs from The Hobbit! Transformers 4 gets a new star... who was chosen by the Internet. Game of Thrones casts a very crucial character. And there are set photos that reveal a somewhat new version of some classic Doctor Who villains.
Spoilers from here on out...
Iron Man 3
Simon Philips, president of Marvel's International and Consumer Products division, reportedly gave a presentation in São Paulo. And he mentioned some major spoilers.
First of all, the scene in the trailer where Tony is lying in a hospital bed? Totally about to be injected with the Extremis virus. And the Extremis virus will allow Tony to put parts of multiple Iron Man suits together. Also, Tony will have a "Hall of Armors" with at least 16 new suits of armor, including some classic armors from the comics. And Pepper Potts will get her own set of armor, and take part in some fight scenes. Whether or not she becomes her alter-ego Rescue, is unclear.
And at least one rumored plot development — Tony creating multiple mix-and-match suits of armor — is apparently true. Screen Rant looked at the descriptions of the upcoming toys — which include the "Iron Man 3 Iron Assemblers Action Figure Assortment: 14 "Connectable" figures with multiple interchangeable pieces to deliver maximum customization." They also point out that rumors regarding the Rescue armor for Pepper have been around for a while. and that actress Gwyneth Paltrow said that "she's getting old for this shit." [Comic Book Movie and Comic Book Resources and Screen Rant]
---
Star Wars: Episode VII
With Michael Arndt confirmed as screenwriter of the upcoming film, and original cast members seeming pretty positive about reprising their roles, all that remains is finding a director. And there's lots of news on that front.
A few days ago, Marc Webb (The Amazing Spider-Man) took himself out of the running and now even more directors are jumping off the bandwagon. So who's letting fans down easy? First, Steven Spielberg told Access Hollywood, "No! No! It's not my genre. It's my best friend George's genre." We assume that he doesn't mean science fiction (since he's made a bunch of those), but space opera. Unless Star Wars has become its own genre. [Access Hollywood via Film School Rejects]
Also, Zack Snyder went on the record with the L.A. Times, saying: "I don't think I'd be interested in [directing it]. I'm a huge 'Star Wars' fanatic. I just think doing [episodes] seven, eight and nine is just a slippery slope. It's a whole other mythological experiment I'm excited to see, but it's a lot of effort." [L.A. Times]
J.J. Abrams didn't say absolutely not, but doesn't seem to be throwing his hat in the ring either: "Look, Star Wars is one of my favorite movies of all time. I frankly feel that – I almost feel that, in a weird way, the opportunity for whomever it is to direct that movie, it comes with the burden of being that kind of iconic movie and series. I was never a big Star Trek fan growing up, so for me, working on Star Trek didn't have any of that, you know, almost fatal sacrilege, and so, I am looking forward more than anyone to the next iterations of Star Wars, but I believe I will be going as a paying moviegoer!" [HollywoodLife.com]
And finally, Quentin Tarantino, who had not made all that many fan wish lists, said, "I could so care less. No, sorry. Especially if Disney's going to do it. I'm not interested in the Simon West version of Star Wars." [EW]
But meanwhile, Jon Favreau noticeably doesn't seem to be closing the door all the way when he's asked about it: "I am just giddy, first and foremost as a fan, to see what happens with it. I think there is a lot of question marks of how they are going to do it, and who they are going to do it with, and what the story is going to be about; but to say that I am not excited about it is definitely an understatement. We'll see." He also gushes about George Lucas, and how lucky he's been to be involved with Lucas' world, in various capacities. More at the link. [HollywoodLife.com]
But will Favreau's enthusiasm be enough to win the day? Here's a video interview with George Lucas and Kathleen Kennedy from StarWars.com, in which Kennedy talks about what they're looking for in a director:
It's not going to be people who don't already have some affinity for Star Wars, probably. It's going to be somebody who really appreciates what Star Wars meant to them and is excited to dive in and be a part of this. That's the thing that I think will be immediately apparent are the directors who walk into the room and say, 'I can't wait to be a part of this.'
---
The Amazing Spider-Man 2
Director Marc Webb wants to do a different cut of the sequel for the IMAX version:
"I remember watching the abbreviated version [of the POV shot] in IMAX when I went to test the IMAX version, and I was like, 'Shit, I should have held on it," he said, explaining that he had already cut that scene down from 40 seconds to 12. "There was a real feeling in the IMAX environment that was really great. I learned a lesson then to be reverent of the IMAX experience. Maybe we'll do cuts that are specific for the IMAX in the future, I don't know, but there was something about that environment specifically that is unique and really exciting."
It's not clear he'll get his wish this time around, but it does sound like something Hollywood might do to bolster more pricey IMAX ticket sales. [Comic Book Resources]
---
X-Men: Days of Future Past
Bryan Singer, who took over directing from Matthew Vaughn, just announced via twitter that he was beginning pre-production for the movie. Filming will begin in April 2013. [SpoilerTV]
Even though Disney now owns Marvel, many of the properties had been previously licensed by other companies. Spider-Man is at Sony, but Fantastic Four and X-Men are at Fox. And it looks like Fox is hoping to put together an Avengers-style continuity where the stories build into one another. Creative consultant Mark Millar discusses his plans for the mutants:
"The X-Men feels like a universe by itself; there's so many characters and so many great potential spin-off characters. They asked me to come in and work out a plan, so unfortunately at this point I can't get too specific. I DO have a three to four year plan of where things could go, but you know, I'll be working with guys like Matthew and Josh Trank (the new director of 'Fantastic Four') and just figuring out how everything can work together and not contradict each other."
---
The Hobbit: An Unexpected Journey
Here are some pictures of Wargs! [Comic Book Movie]
---
Transformers 4
In a decision that will be deeply studied by the internet scholars of the future, a director has finally made a casting decision based on the suggestions of random internet commentators. Rejoice, because we have the power… to convince Michael Bay to cast Mark Wahlberg in Transformers 4. It probably helped that the two worked together well on Bay's movie Pain and Gain. Says Bay about that experience:
"Mark is awesome. We had a blast working on "Pain and Gain" and I'm so fired up to be back working with him. An actor of his caliber is the perfect guy to re-invigorate the franchise and carry on the Transformers' legacy."
Bay has also let it drop that Transformers 4 takes place four years after Dark of the Moon and we should expect it on July 4, 2014. [MichaelBay.com]
And here's the movie's logo:

---
Kick-Ass 2
Let's be honest, this is what we were all looking forward to from this film. Here are images of Hit-Girl in action. [Daily Mail]
---
Snow Piercer
South Korean filmmaker Bong Joon-Ho's English language debut (an adaptation of a French comic) will be released by Weinstein Co. in the United States. The film takes place on a train in the near future, after a new ice age has wiped out most of the people on earth. [First Showing]
---
After Earth
The Will and Jaden Smith vehicle, directed by M. Night Shyamalan, has finished filming in Humboldt County, CA. They dropped some $5 million dollars during their five months of shooting in the area's redwood forest. The film's plot involves Jaden Smith's character traversing a post-apocalyptic, uninhabited environment. So movie goers, be prepared for lots of really big trees! [Times Standard]
---
Hotel Transylvania 2
Sony has announced a sequel to the Genndy Tartakovsky-directed Adam Sandler vehicle. The release date is September 25, 2015. But Tartakovsky is scheduled to direct Popeye for a 2014 release, so he probably won't be back. [Slash Film]
---
Beautiful Creatures
Here's a banner of the cast looking all sorts of witchy-gothic for this YA adaptation. Someone has got to tell folks in Hollywood that pouting doesn't make girls look like they have higher cheekbones. They just look pouty. [Coming Soon]
---
Doctor Who
We've been hoping Neil Gaiman's next episode would restore the Cybermen to their former awesomeness, and now here's your first proof that the Doctor's longtime enemies have been redesigned. Check out your first set photos of the noticeably different — and quite possibly Mondasian — Cybermen. [Life, Doctor Who and Combom]