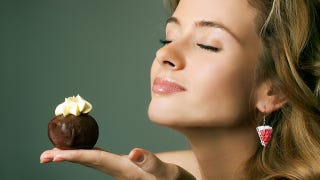 If you eat processed foods — which most of us do — there's a good chance you've tasted something that was designed by a flavor chemist. But getting pre-packaged foods to taste exactly the way they do is no easy task. It's a process that requires everything from supertasting chemists to the sourcing of hundreds of complex ingredients. Here's how these flavor engineers make you keep coming back for more.
The flavor industry
Flavor engineering is a surprisingly secretive multi-billion dollar industry, whose in-house chemists work to create both natural and artificial flavorings that consumers find delicious and appealing. These chemists design various taste experiences by blending aromatic chemicals, essential oils, botanical extracts, essences, and whatever else it takes to create a specific kind of taste.
Companies like Givaudan and Cargill create and manufacturer flavors for a wide variety of foods, beverages, confections, pharmaceuticals (including chewable medications and liquid prescriptions), oral care products (like toothpaste and mouthwash), cosmetics (including lip balm), nutrition products (vitamins and sports gels), and even pet food. And in fact, the general principles they follow are very similar to what's done in the perfume industry.
In addition to creating flavors, they also have to ensure that their products are safe for human consumption (which includes preventing allergic reactions or avoiding toxicity), and that the foods can withstand various compositional changes brought about by cooking, freezing, and other forms of preparation.
Moreover, they have to create flavors that don't just make the end consumers happy — but their clients as well (they are typically outsourced by food manufacturers). Most of all, they also have to help the food companies make huge profits.
Flavor profiling
Flavor chemists do more than just mix compounds — they have to be supertasters as well. Many of them attend cooking clinics and follow the work of famous chefs. Moreover, they also have to know the in's and out's of taste — and that's a very complex set of sensory experiences.