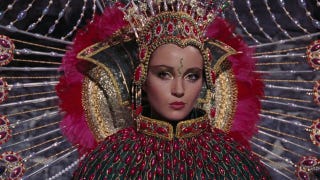 James Bond and his harem of "Bond Girls" usually look like sex wrapped around a hot stick. But every now and again, Bond misses his mark. Big time. Sometimes, Bond goes way overboard.
Here are the 15 worst James Bond fashion moments on film.
Behold, your first stirrup-pant-jumpsuit villain. Francisco Scaramanga from The Man with the Golden Gun (1974).
Proving that it is, in fact, impossible for James Bond to look cool in 80s snow wear. However, you three in the back, loving the boots. Roger Moore and a cowboy snow bunny in For Your Eyes Only (1981)
Fashion foreshadowing, long before Sean Connery was Zardoz, he was practicing framing his junk in tiny pieces of tight red fabric. Also, why the red suit? You're a spy. You're supposed to be hidden, there's a black suit right there in front of you. You're looking at it. Fuck it, we're doing red, Thunderball (1965). EDIT: Apparently Red looks Black at night underwater. Good thing he has his reflective shorts on.