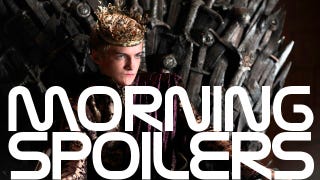 Those Star Wars hints and rumors keep coming — including a tantalizing rumor about a possible director. There's also tons of speculation about the direction of the new trilogy, and just when these films will take place. Meanwhile, Guillermo del Toro says he might be up for directing the supernatural version of the Justice League after all. Also, The Walking Dead focuses on the kids, and a member of Coldplay is coming to Game of Thrones.
Spoilers from here on out...
Star Wars: Episode VII
A "highly placed source" is saying that Harrison Ford, who does not generally attend Star Wars conventions or events, is "open" to reprising his role as Han Solo. The inside source says: "Harrison is open to the idea of doing the movie and he's upbeat about it, all three of them are," referring to the three original stars. [EW]
Plenty of fans were disappointed to hear that Timothy Zahn's Thrawn Trilogy won't be making it to the big screen under Disney's aegis (at least not yet) — but Zahn wasn't one of them. Zahn tells Entertainment Weekly that he wasn't even surprised:
The original idea as I understood it — and Lucas changes his mind off and on, so it may not be what he's thinking right now — but it was going to be three generations. You'd have the original trilogy, then go back to Luke's father and find out what happened to him [in the prequels], and if there was another 7th, 8th, or 9th film, it would be Luke's children. The Thrawn Trilogy really would have fit into the gap."
But who could direct such a generation spanning film? The latest report from the rumor mill is that Matthew Vaughn, the director of X-Men: First Class and Kick-Ass, is already in talks to direct the project. This comes from a single, anonymous source — but it would explain his hasty departure from X-Men: Days of Future Past. Or maybe he just didn't like that convoluted title. [First Showing]
Vaughn's name isn't the only one flying around Hollywood, and some are arguing that what Star Wars really needs is a woman at the helm. Entertainment Weekly interviewed some women directors who eagerly pointed out the many awesome female characters in the Star Wars universe, with hope that Disney will do more with them. Says Maureen Perkins:
I think there definitely could be an opportunity in the Star Wars world to mine some formidable female characters," Perkins said. "Mara, for instance, or Leia's daughter Jaina, characters who could easily become as iconic as Princess Leia was to the children of the '80s, with the possibility of speaking to a balanced and modern sci-fi audience.
Somebody who knows somebody at Lucasfilm told somebody on the internet the following things about the upcoming trilogy: "Movies 10 - 12 are from my understanding about the offspring of the Skywalkers, set many years later with the surviving cast playing much older versions of themselves and featuring a female protagonist named Skywalker." And that "Luke Skywalker, Han Solo, Chewbacca, Princess Leia, C3PO and R2D2 are I am assured to feature prominently in the new trilogy, as was always the idea. Apparently some have already been approached. Quite a while back too to my understanding. Hamill is a certainty."
And finally, another somebody who knows somebody at Lucasfilm says that a writer and director have already been selected and that the film will take place more than 50 years after the end of Return of the Jedi. Obviously, these reports should be taken with all the grains of salt in the galaxy. [The Force.net]
---
Transformers
And then there's this Transformers rumor, that is really about Star Wars. In their effort to own all the things, rumor has it, Disney's next acquisition will be Hasbro.There's no evidence or quotes that prove this effort to grab the valuable robot franchise is really happening, especially since many of Hasbro's properties have been licensed out to other companies. [Slash Film]
---
The Hobbit: An Unexpected Journey
Here's a brand new TV spot:
---
Muppets 2
Shooting begins on this caper-y sequel in London in January. The film is currently scheduled for a for December 2013 release. [IGN]
---
Heaven Sent
So recently there were rumors that Guillermo del Toro was going to direct Heaven Sent a DC team-up film in which Deadman, The Spectre, Swamp Thing, Constantine Hellblazer, Phantom Stranger, Zatanna, Zatara, Sargon and Etrigan the Demon fight, presumably, the Stay Puft Marshmallow man. And then, there were rumors that del Toro denied that he was involved with the project.