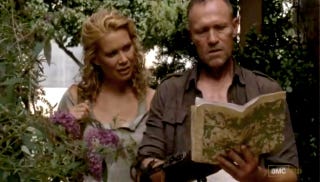 Don't let the headline lead you astray — we actually enjoyed this week's installment of The Walking Dead, just as Glenn and Maggie enjoyed each other's unwashed bodies in the prison's newly anointed Sex Tower.
But the show did something absolutely unforgivable last night, with a plot twist that drove the thumbscrews through my heart. Or shall I say, "heartscrews." So yes. Screw you and your screwy, screwy heartscrews, Walking Dead. Spoilers fucking on.
About a zillion things happened last night in "Killer Within," most of which made for ripping television. Michonne was caught investigating The Governor's National Guard shootout, and it was fun to see two obviously crazy people politely plan to kill each other while "Powerhouse" began playing inside their respective skulls. Also, Michonne wants to reenact the ending of the Shawshank Redemption with Andrea. How nice!
Also, the show finally figured out that Michael Rooker is a good actor and gave Merle some depth. The surly scoundrel warmed our hearts when he tried to drop everything and search for Daryl. He also made our genitalia atrophy when he hit on Andrea. (Remember, he's putting the moves on Andrea after accusing her of being a lesbian in a pill-addled rage! That's some Level 10 Mystery Method shit right there.)
So yeah, good job, Walking Dead — you've made several million people imagine intercourse with the show's resident screaming yokel. (Incidentally, lovemaking with Merle Dixon does not occur in a normal bed — it takes place on a coleslaw-stained spruce bench, with Slim Whitman on a staticky AM radio for ambiance and hush puppies in places where hush puppies do not belong.)
Heck, even Lori's left-field death by Caesarean section in the fourth freaking episode of this season was brutal and emotional and sad and Carl will never be right again. That final hug. Oof. In the span of ten minutes, Carl saw his mother give birth, splayed her like a pimento loaf, and then put a bullet in her head so she wouldn't try to devour him like Saturn the Titan. Even in neolithic times, this would be astoundingly depressing. Seriously, an inauspicious event like this in caveman days would be cause for the entire clan to lie facedown under a wobbly menhir or a nearby auroch stampede.
Note that we don't see Carl shoot Lori. Of course, that would be totally screwed up if The Walking Dead gave us zombie Lori with a umbilical lasso. But hey, we didn't see Andrew die two episodes ago, and he returned to ruin everybody's day. Also, Merle disappeared for a season to work on his night moves. In the zombie apocalypse, you must die on camera or you didn't die at all. (Also, I wonder where The Governor's daughter is? Are they going to throw us a loop here, comic book fans?)