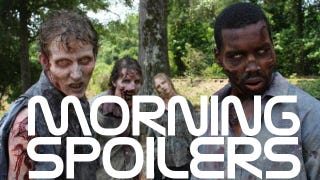 Welcome back to your regularly scheduled spoiler round-up. This time, there are hints about the mysterious new project that Christopher Nolan is producing, possibly starring Johnny Depp. Plus a new J.J. Abrams movie based on Etsy crafts. Justin Lin is vying to be the hardest working man in science fiction. There are a ton of Twilight: Breaking Dawn Part 2 clips.
And we get some hints about when we'll see the ending of Fringe and the beginning of Joss Whedon's S.H.I.E.L.D. Spoilers from here on out!
Top image from The Walking Dead.
---
Iron Man 3
Ben Kingsley's looking awfully comfortable in the Mandarin's gold-embroidered robes, in this press picture. [Newsarama]
---
Transcendence
Plot details about this movie, produced by Christopher Nolan and directed by his longtime cinematographer Wally Pfister, are starting to come out. And it sounds like Pfister and Nolan are joining Roland Emmerich in trying to bring the Singularity to the multiplex: